Writing this magazine gives me a great deal of pleasure. There is a lot of interesting things to look at in each of the category sections. Sure it sometimes takes more time than I would like to gather all the pieces together and to have sufficient time to really put each of the items through their paces. However, of all the subjects broached here at RYO Magazine, none generates more feedback and opinion than does tobacco. Not even the Editorial section or the often extrapolative Cover articles generate as much incentive for our readers to write us as does tobacco. Obviously tobacco is a very subjective substance. Each blend has flavors that are apparent to each smoker in different ways. They all have unique burning characteristics and most good tobacco leaves the user with a distinct set of impressions. To be clear, they actually notice the flavor. When they read my impressions they are moved to communicate. One of the wonderful things about rolling tobacco is that its users actually can make specific and qualitative assessments of its flavor. The package cigarette industry is far more interested (less so than in the past, but still for the most part) in the "image" of its products. And consumers have been buying in to those images for many years. Even with the fact that cigarettes today have little of the flavor they once did, brand loyalty is still very high. A Marlboro or Camel smoker rarely changes unless economic hardship dictates the change. Image driven tobacco choices often revolve around catchy buzz words or other romantic, descriptive terms. For instance the mere
word Turkish on a cigarette pack has proven to be a most successful marketing tool. Camel has exploited that word to the max while the Camel cigarette has not had a true Turkish taste for over 30 years. Marlboro capitalized on the cool little flip top box that contained regular length little filtered treasures that were once my favorite, again 30+ years ago.
The most common question we receive from new adventurers into the MYO world is what tobacco I would recommend that tastes like a Marlboro. It is a tough question in so far that today's Marlboro has little of the distinctive taste it once had. Nonetheless there are rolling tobaccos that both simulate the original Marlboro flavor as well as some less expensive ones that come close to the current "flavor" experienced by smokers of Marlboro products. Zig-Zag, Gambler and H&R's full flavor all give one that Marlboro-like taste though even better. The other non-oriental, Winston was pure Virginia way-back-when, and had a drier more abrupt flavor much like many of the lighter Virginia's available today. Much more harsh than the McClintock Virginia, Winston then was actually more like the McClintock, Zig-Zag, Gambler, Top, and the new H&R Lights are today though, again, these are less far harsh as well. To repeat, that was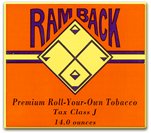 30 years ago when there was a preponderance of flavor. It is hard today to duplicate the lack of flavor that characterizes many of today's most popular pre-mades. In general, if you want the Winton taste, go with the light version of most of these discussed, and if you want the Marlboro, go with the full flavor. Camel cigarettes on the other hand are even easier to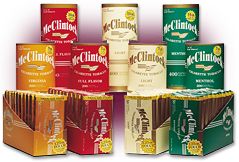 duplicate, or at least the Camels of old. You simply need some good Turkish leaf added at about 20% with a fairly strong combination of Virginia and Kentucky Burley (very little Burley as a matter of fact). Both D&R's Ramback and Lane's Oriental # 1 (sold under various names by tobacco shops) are outstanding mixers to get that old time Turkish flavor into your smoke. Bugler is another offering with a Turkish component but little of Turkish flavor comes through. This is a strong tobacco originally destined for the smoker who hand rolled their own, often in thinner sticks. Bugler goes a long way for those hand rollers and is still one of the two most popular rolling tobaccos in the US (TOP being the other one), and is available practically everywhere cigarettes are sold. With the increased acceptance of Make Your Own, smokers are heading toward milder tobaccos that have very good, more complex flavor. The authentic Turkish element mentioned above is an important part of many of their choices and is dramatically increasing in popularity as a blend component.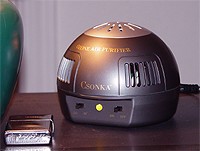 As I sit here writing this, I am enjoying such a blend. I'll tell you more about the blend in a minute but first, knowing my aversion to smoking indoors, I should share with you a new toy that I found at the recent NATO Expo in Vegas (National Association of Tobacco Outlets). It comes from CSONKA and is an ozone (O3) generator, the Ozone Air Purifier or "Smoker Cloaker." And it really does work. I use it in conjunction with an exhaust fan (basically a small box fan stuck in the window to suck out the air in the room - suck - suck). I will go into much more detail about this marvelous little device in the "Review" Section of this issue that addresses quite a number of interesting items seen at the show. In general though, it produces/puts ozone into the air and the ozone reacts with smoke particles (all kinds of smoke) and neutralizes the odor by attaching (actually giving up) the extra oxygen atom (O3 compared to the normal O2 we breathe) to the particles thus causing them to fall out of the atmosphere and to the floor. I will expand on the science of this in the Review section but suffice it to say here that it works far better than any filter driven air cleaner with no maintenance..

However, the fact that I am enjoying what basically reminds me of a good old Camel of the 60's, though better still, is what is most interesting to myself and to many of our readers who ask about such things. So first it is only fair to remind you where you can get the Turkish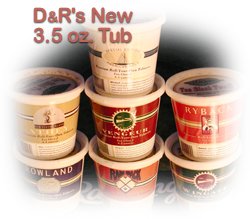 element. D&R's Ramback is available at their website (www.cigarettetobacco.com) and at quite a few other retailers who have decided to begin selling this ostensibly "private" blend. The Lane Oriental is available at RYO Tobacco (www.ryotobacco.com) and other places including Cascade Cigar (www.cascadecigar.com). Now Jan at Cascade had some trouble with the Lane sometime back as it was showing up dry. I am not sure what she has done about this but Ric, of RYO Tobacco has taken an aggressively proactive approach (much like I would do) and has started a very successful moistening process which he attends to in a very scientific way, measuring moisture content with relatively high tech tools. Ric knows a lot about tobacco and is not afraid to put some effort into maximizing all of his products. He now has the tobacco at its optimal moisture content and when the Lane is treated thusly, it is very, very good. The Ramback has been a winner since it was introduced a couple of years ago by Mark Ryan of D&R. Mark is an expert on tobaccos and is situated right in the middle of the best tobacco growing area of the US. He has hands-on experience with his blends to the point that he is initially dealing directly with uncut leaf. Ramback is really good and comes in various containers from nearly a pound down to 3.5 ounce plastic tubs (at right). So you have two choices right off the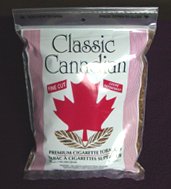 bat to begin your experiments with that delicious Turkish ambience. Both Mark and Ric are highlighted in the Review section this time as well as they combine many years of experience in the business of MYO/RYO development and its subsequent retail distribution. And there is more . . .
Another buzz word that has impact though not used much by the American cigarette industry is and has been for quite along time is the use of the word "Canadian" to describe both a specific tobacco and a style of blend. We have talked about Canadian tobacco in recent issues and Americans who have developed a taste for Canadian style cigarettes or have enjoyed such pleasures as Export "A" or Player products can now find several great Canadian Blends for their MYO arsenal. In addition to the ones we talked about in previous issues, Republic Tobacco's "Canadian Classic" is perhaps the best now available in the US. Unfortunately it is not in wide distribution yet but it has been around for a while, mostly in the Northern states that border Canada. However, at NATO we spoke with Republic's Don Levin, and Warren Schoening about this and they assure us this great blend is going to be given a chance at wider distribution. They in fact were getting orders for it while we were standing there at the booth. The Canadian Classic (about 40% pure Canadian tobacco mixed with a bright Virginia) is exceptionally smooth and comes in at a bargain price. The package is shown at left and if your store does not carry it yet, urge them to do so. It is a must for those who truly enjoy variety and for those that want that tasty sparkling Canadian flavor at a good price. As it becomes more available we will point you to increasing sources, but I am confident that after the discussions we had at NATO it will begin showing up at all of the best online retailers, followed soon, driven by customer request, into most good tobacco stores.
Both Mark of D&R and Ric at RYO Tobacco are also in hot pursuit of a good Canadian blend to make available in bulk. We stopped by the Standard Commercial Tobacco (a major supplier of tobacco for many well known blends) booth at NATO and tried one Canadian blend in particular that we recommended to both Ric and Mark. They, of course, will customize it to fit their particular customer needs, but starting with what I tasted, it should be easy to come up with blends that satisfy even the most discriminating Canadian enthusiast. This is the blend with the Turkish that I am smoking right now. Standard's Canadian is delicious and mild, a perfect compliment to the Turkish. (Turkish to be effective for most folks needs to be blended with something light but that burns a little hotter than the Turkish thereby releasing that distinctive flavor a little more quickly while still giving some punch to the extremely mild character that good oriental - Turkish - leaf is known for). We will keep our readers up to date as to when new Canadian blends are available but for now you can't go wrong with Republic's Canadian Classic if you can find it. It is truly outstanding.

One of the reasons we have delayed the release of this issue of the magazine was the knowledge that a lot of new blends were being developed. It seems more and more folks are getting into this business and the well established ones are increasing their lineups significantly as well. One of the newer companies that has already experienced significant success is H&R Tobacco of Lewiston, Idaho. No they don't grow tobacco in Idaho, but the principals of this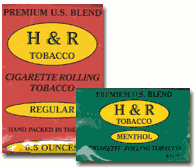 company have joined the MSA (Escrow Compliant) and are not only selling their own label products, but are providing private labeling services for others. They shop for blend components at Standard and other sources as well, and have come up with some very good offerings at very reasonable prices.
Last time we introduced a very economical yet high quality set of H&R blends. This initial offering was a full flavor, followed by a menthol. Recently we were introduced to their new Light blend and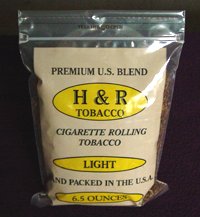 find it very tasty as well. This is a truly light, very mild tobacco, and the leaf quality appears very nice. It is available at the same low price as the other H&R blends and we found it to be very well received at the NATO show. H&R, being relatively one of the new guys on the block. seemed to attract quite a bit of attention and both Bill and Brian were great representatives of their company. They were having as much fun as any of the guests and their enthusiasm was contagious. H&R is an Escrow Compliant company as defined by the MSA agreement and therefore is able to create private blends for others who are looking for products they can put their label on while H&R fulfills the requirements of the MSA for them. This is a win win situation for the MYO industry in that it will allow more private label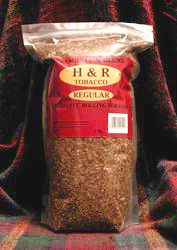 blends to emerge, each with tastes unique to the preferences of the creator. They have full packaging facilities and quite a number of people I spoke with at the show in addition to a lot of our readers were looking forward to just such an option. Other MSA compliant companies like D&R Tobacco (actual signatories, which are in full compliance, as opposed to escrow companies which are considered compliant non-participating manufacturers) are capable of providing this service as well and though the paperwork is a bit of a task, it really does open up the possibilities for a much larger variety of blends without the delays that many larger rolling tobacco companies experience because of their sheer size.
As new leaf varieties come in from the leaf cutter sources like Standard Commercial, buyers and tobacco producers like D&R and H&R are going to be able to construct some really interesting blends. The new H&R Light, like their full-flavor and menthol is now available in small .65 oz pouches as well as 6 oz and new one pound bags. Some major distributors have already picked up on these blends and many retailers who have tobacco licenses (the license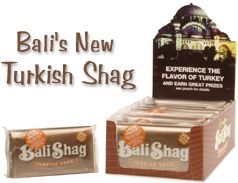 allows the retailer to buy untaxed tobacco and pay the tax themselves thus buying wholesale in their respective states) are selling it as well.
Major, more robust and established rolling tobacco companies are also enjoying increasing success with new products. Peter Stokkebye International, whose McClintock, Bali, and Private label "Peter Stokkebye" lines, have been popular for quite some time, recently introduced their new Bali Turkish. We talked about this tobacco some last time but after having a few months to live with it are finding it to be a truly outstanding blend that we have yet to tire of. Most of you know that Bali Red is my favorite everyday blend. This new Turkish is very similar, but with an increased Oriental component that is very satisfying. It is a bit stronger to my palette than the Red, but for most folks it is absolutely divine. Stokkebye continues to hit the mark with every new introduction and even though Peter himself is semi-retired and concentrates now more on the pipe tobacco market, his influence and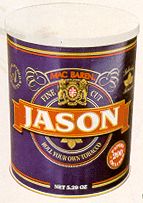 knowledge has certainly been passed on to his son Eric and the other wonderful folks who work at Stokkebye.
Yet another new offering worthy of note comes from Mac Baren through Arango Cigar, predominantly a cigar importer/ distributor. The brand name is Jason and this is some kick-ass strong, but really tasty tobacco. It has an almost cigar like richness and aroma but is a bona-fide cigarette blend. The flavor characteristic are very complex and though pretty strong stuff, it is unique in its flavor qualities. I really like this blend and with an aggressive enough filter, even those who like lighter tobaccos, will find the flavor very much worth the power. In much the same way as certain hot sauces are pure heat with little or no flavor enhancement, while the best ones have both heat and flavor (in other words the heat is worth it because of the added flavor) this tobacco's flavor is worth the strength. And for those with heartier constitutions who are looking for a good strong tobacco, we have found none even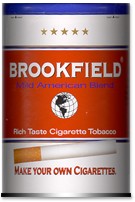 close to satisfying both the flavor and power equation like Jason. Pure dynamite, this is a fine, long cut tobacco and is as dark as most halfzwares. The can even looks like a halfzware can, but make no mistake. There is no Euro halfzware flavor here. This is pure American flavor despite all appearances to the contrary and it is one that most will not mistake for any other blend. For distribution info, Arango can be contacted by clicking here. It is already showing up at many shops in the retail chain including www.ryocigarette.com.
As a matter of fact there are similarities between Jason the one of the tobaccos we have reviewed before as far as the flavor goes. The tobacco is Brookfield which is a Davidoff import and now is in the hands of Ric at RYO Tobacco ( www.ryotobacco.com ). The Brookfield has some of that cigar-like refined flavor as well and at one time was in danger of disappearing from the US market. Ric has arranged to keep it coming and has plenty. Brookfield, though not as strong as Jason is a unique experience in tobacco that should be experienced by the connoisseur at least once. Though Jason is a Danish product and Brookfield is from Germany, neither are European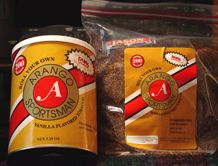 in flavor character though the cut of Jason is, as noted above, a more traditional long , fine Euro cut. Brookfield is an American cut but there is something quite exotic here and we recommend it highly.
There is also another Mac Baren offering from Arango that we found most interesting. It is their Arango Sportsmen. This is also a high grade Danish blend but with a delightful vanilla flavor in a bit larger, more traditional cut than the Jason. Unlike most flavored cigarette tobaccos you can tell that this one was developed as an aromatic blend from the start. Rather than simply adding flavoring as an afterthought, this blend seems to have been cured and flavored throughout the aging process to be a much milder and tasty blend with none of the after-taste that is often associated with flavored tobaccos. However Mac Baren accomplished this, it smells as nice as fine vanilla pipe tobacco but has none of the characteristic harshness of pipe tobacco when inhaled. This one is a very smooth pleasant experience for those who like flavored tobaccos and especially for those who normally find cigarette smoke offensive. It works equally well in a pipe and burns very smoothly and evenly in either medium. Sportsmen comes in both a 5.29 ounce can and a 10 ounce bag. If you like vanilla you will love this blend. Yumm!

One of the few things that we missed at the NATO show was any new Halfzware offerings. However, with the existing array of fine Euro flavored halfzware blends like Bali Blue, Samson Blue, Drum, Gauloises, Stokkebye's Amsterdam and Norwegian, Jester, Zig-Zag's Golden Halfzware, Chills' Americana, and a few others lesser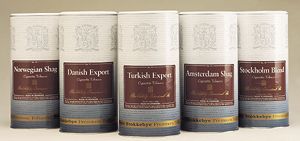 knowns like Bull Snit, and the very tasty Charles Fairmorn Dark Fired, the market may not support many new entries into that category for a while. I still enjoy these tobaccos for a treat and the dedicated hand rolling market (as opposed to the make your own devotee) remains a staunch supporter of these products. In fact the Stokkebye lineup shown above is growing in popularity with our readers at an amazing rate. And most notable, their relatively new Turkish Export and Stockholm Blends (neither of these are '"zwares" are doing especially well with our reader's palettes. Samson Blue also garners a lot of attention and is evidently getting a much wider distribution than ever before resulting in lots of favorable impressions passed on to us. by the way we have not talked much about the other Samson blend,
their gold, or brown pouched mild. It remains one of our favorites and, again is a worthy addition to the connoisseur's stock. It is mild and more American in flavor but has a richness that is appreciated, much like Stokkebye's Stockholm.
A few issues ago we began our examination of rolling paper alternatives like blunts and tobacco wraps. One of the category that generated a lot of reader comment and pleasure was the Sweet Palm Wraps available at Ziggymart. Well now Amico, the manufacturer has come up

with a set of flavored tobaccos that go extremely well with these pre-formed sticks. The tobacco comes in plastic tubs (show at left) and come in three flavors so far. These include a Mild Natural, a Mint Pattie, and a Pure Honey. Even the natural has a bit of a vanilla-like ambience. This is actually some pretty tasty tobacco, especially for those that like a flavored blend. I am not a fan of flavored cigarette tobaccos but many of our readers are constantly searching for more flavor variety. Well here is their chance to get some really dessert quality tastes. This is cigarette tobacco not pipe tobacco so it can be use accordingly.

Although it is well known that we are not fans of packaged cigarettes, we have to acknowledge that they constitute a far greater market share than packaged brands garner. Old habits die hard and the American public's predilection for fast food and quick, convenient smokes is not likely to change dramatically overnight. The MYO industry is growing fast but still accounts for probably no more than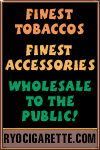 5 or 6% of the smoking public. The cigarette industry, after years of major legal, political, and public relations screw-ups is trying to repair their image. We have not yet seen that translate into
markedly superior products but at least their marketing strategies have somewhat matured. There is one, and only one, major brand cigarette company that is heavily involved in RYO/MYO as well. That brand is, of course, American Spirit, the trend-setting product of Santa Fe Tobacco. Recently Santa Fe was purchased by R.J Reynolds for around the $300 million mark. Many devotees of the American Spirit brand immediately expressed concern that this company that built its entire reputation on pure unadulterated tobaccos would get in bed with a major cigarette producer and thus be forced to vary their unique philosophy. I had concerns as well. The temptation for R.J. to bring Santa Fe down to their standards of quality or the strategy that they were acquiring Santa Fe simply to control or mitigate the noteworthy success of a fast rising competitor certainly seemed a possibility. We were assured by many within the Santa Fe organization that their products would not be affected, and that Santa Fe would retain its autonomy.

After a year or so of closely watching the situation, we are happy to report that it appears Santa Fe has not only retained their autonomous pristine philosophy as to the contents of their products, but are producing even better quality items. While I remain a non fan of premade cigarettes, I have to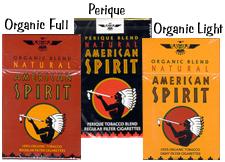 admit that the Spirit brand pre-made was one I could always smoke in a pinch. They tended to be a bit harsh and I often questioned the quality of the tobaccos used (100% natural or not, I still like good flavor - I prefer seasoned, cooked meat rather than raw). The blue packaged mediums were the ones that I most successfully tolerated and the yellow boxed Lights shown above were probably their most popular. Dramatically, in the last few months I have noticed what appears to be an improvement in flavor of the entire line. Furthermore, some of their other offerings such as their Organic, which now includes a Light version, and Perique blends are becoming tastier to downright good as well. Now I would never switch back to pre-mades. I am much too satisfied with the freshness experienced with a newly injected cigarette from tobacco that I choose and that I can vary at will. However I must admit that the Spirit brand is the closest thing I have yet seen to a make your own. American Spirit, as mentioned above makes a lot of rolling tobacco as well. Their standard blend (in the yellow can and pouch), and their
Organic blend (in pouches notably with a relatively high price tag) were never among my favorite rolling blends. However their US Grown, (in the blue can at right and not in a pouch - I still haven't figured out the depth of their packaging strategy) was and is among the nicest of rolling tobaccos out there. It has depth and consistency in its burning and has little of the harshness often associated with other Spirit products. We have extolled its virtues before and still find it to be a very worthy selection. But the news is, just as

in the case of their packaged brands, we have found, across the board, the Spirit line of rolling tobacco to have improved as well. We talked with representatives of American Spirit at the NATO show and told them of our impressions. They really had no tangible reason that would serve as a definitive company statement accounting for the improvement but I think it certainly possible that while Spirit remains autonomous from the RJ parenthood, the larger scope of the parent operation may have afforded Santa Fe with certain advantages like faster delivery, less time on the shelf, and fresher product being moved more quickly.

We additionally must be honest in saying that their Perique Blend (Perique is a very localized and notable smelly strain of tobacco grown in, I believe, St. John's Parish, Louisiana that when mixed in small amounts with other good tobaccos can really enhance flavor and smoothness), shown above in black wrapper along with the two organic blend cigarettes, has evolved to be a really tasty smoking experience, especially for a manufactured stick.
One of the interesting things I found about American Spirit cigarettes in general and upon closer inspection is that they use a perforated filter. Even in their full flavor some perforation is present (see comparison at right)
. This may lead to a drier smoke but the new batches I have tried have lost most of the characteristic harshness. We congratulate Santa Fe on their latest endeavors and especially on the fact that the improvement in their packaged brands has translated into better rolling blends as well. We even to talked with them about a Turkish cigarette (of course) as they are one of the few if not only companies capable of making a natural yet authentic Turkish cigarette. Turkish tobacco is natural by nature and is low in nicotine as well. Blending their regular yellow packaged Spirit rolling tobacco with Ramback has long been a favorite of mine with more Turkish than Spirit as the components. With the increased mildness of the Spirit blends, less Turkish is needed and the result is an even more outstanding flavor. I think it will soon come to pass that Santa Fe will indeed put out a Turkish product to accompany their most interesting Perique blend cigarette. Hopefully such a rolling tobacco will likewise follow. We will continue to update you on this possibility. Santa Fe is the ideal hybrid for the on the go smoker who prefers making their own but is caught in between opportunities to do so.

So what are you going to do if you don't have time to make your own and can't find a decent packaged alternative like Spirit, or even more likely today, can't find a place to smoke (most public places and transportation system like in

airports, bus station or on the plane or bus itself)? For centuries, tobacco enthusiasts have been using smokeless tobacco. I am not talking about the relatively disgusting chew and spit kind or the "pinch between cheek and gum" - which also requires evacuating the contents of you mouth unless you really are going to swallow that stuff. No, I am talking about nasal snuff. After many years as a touring musician, I swore I would never put anything up my nose again. But even in college I occasionally had the opportunity to dip snuff, as the practice is called. You simply put a little of the fine powdered, flavorful tobacco on your thumbnail and sniff it into your nasal passages. It is relatively inconspicuous and there is nothing to expectorate afterwards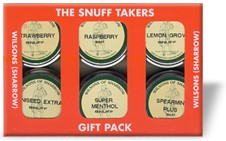 although until you become a seasoned snuff user, sneezes are not uncommon. There has recently been a resurgence in this type of tobacco use. While abuse of these products possibly could lead to mucous membrane irritation, it really doesn't take that much or increasing frequency to enjoy a nice nicotine hit. Some of the best snuffs come from Britain and hence are know as Traditional English Nasal Snuff. Wilson of Sharrow has some of the most tasty. Check out the snuffshop banner below, click on it and go to the site for some tantalizing descriptions of this interesting retro product. I can't say that I am a big user and I really don't like the mentholated stuff but many do. I prefer the one above left (Irish Coffee). It really does have a coffee-like ambience and the sneeze factor is less than in many others I've tried. The Snuff Shop (www.snuffshop.com) has sample gift packs that allow you to try several in smaller containers and I think a number of you will find it a pleasant diversion from burning sticks and certainly, at times at least. a lot more convenient. This is the best source for snuff on the web and they have many more brands and flavors to choose from. At one time snuff was big in the US and remains so in Europe and the UK. It's a kick!

Well that pretty much does it for this time, but I would like to re-emphasize that in the very near future a whole new array of custom blends are going to be showing up from the likes of D&R, RYO Tobacco, H&R and others including entries from some major manufacturers. This can only be viewed as great news as these custom blends will rival the quality and diversity of many of the world's most well known tobacco's and will likely cost significantly less.

Remember that no matter what you read in these pages about tobacco, you owe it to yourself to try each blend yourself. Everyone has different tastes and no one opinion is right or wrong. As long as you enjoy the flavor and can afford to buy it, for you, the tobacco you choose is the best in the world - whether you smoke one brand or fifteen different brands for variety. Never smoke anything you hate because it is cheap. There is GOOD cheap tobacco. After all, that is the logic and specialness of RYO. You can put any kind of tobacco you damn well please in your cigarette - whichever mood may strike. Until next time, remember to practice moderation and good taste to a fault. These can be great contributions to civilization. - RYO

---
EDITOR'S NOTE: These reviews are solely for the convenience of people of legal age who already smoke, are trying to cut down on smoking, wish to spend less money on their smoking, want to roll their own cigarettes from high quality tobacco, and, in general, wish to have a far more satisfying, and economical smoking experience when compared with smoking pre-manufactured cigarettes. We, in no way, encourage people to smoke. Further, we prescribe to a sane, more logical approach to smoking that involves common sense as to quantity coupled with a strong desire to manage the habit until it becomes an occasional, freely chosen, diversion, that can be fully enjoyed with minimal health risks. Finally, we strongly encourage those who do smoke to take it outdoors, or to appropriate environments where tobacco can be enjoyed away from those who do not smoke, most especially children. We do not sell tobacco or related products from this site; We distribute information about our perceptions of the quality of what is available and where it can be obtained. If you are under 18, it is illegal to buy tobacco and you should immediately exit this site. If you do not smoke, it would seem illogical to start.