For those of you who have grown weary of me saying that for the most part rollers are rollers are rollers, with few exceptions, I maintain that it is a true statement. The 110 mm Rizla, Zig-Zag, Chills Super Cone hand rollers are all really useful and are among the best made, but one pretty much works as well as another. There are issues of how long they last and how good the blankets are, as well as price, but I personally have never used a roller long enough to wear it out, so for me their cost-effectiveness is a moot point. Once or twice a day at most, I will roll up some great halfzware into a thin stick for a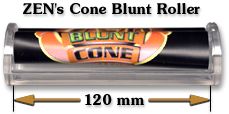 treat, but mostly I am an injector guy.

With the introduction, years ago, of 110 mm rollers I was pretty much convinced that the market was addressed. After all 70mm, 79mm, and 110mm covered all of the kinds and sizes of papers that were manufactured historically and as long as you had a long enough roller, that single roller could use all sizes of papers.

Then came Blunts. We have spent quite a bit of time reviewing the ever growing number of these products and while most were 100mm or less, many were not easily used in a hand rolling machine . they were too thick and with no adhesive had to be moistened significantly to stick together. This was hard to do in a roller environment whereas by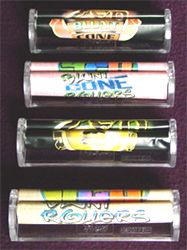 hand it could it be done. But as the Blunt market grew and more blunt manufacturers were trying their damnedest to make there products appear for tobacco use exclusively (which is still at times a tough sell) the blunts became thinner, more sheer and now some even have adhesive strips so that they can be used in roller quite effectively. Making your own long cigarillo with your favorite tobacco and wrapper is now a fact.
We will cover these rolling paper products more extensively in our Rolling Paper section in this issue but one thing that is apparent is that a new roller was going to be needed that was dedicated to these less forgiving rolling materials. Well who else but HBI the huge rolling paper and other tobacco products distributor should be the first to address the issue with a new series of 120mm rollers that were designed for thicker and wider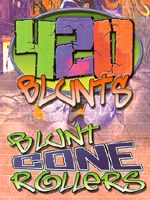 media like blunts. We got a load of them into our office and immediately began playing with them. We started with normal 110mm rolling papers to see how they differed from traditional 110 roller. What we found is that they work very well with these traditional papers as long as you want a thicker stick.The added size of the blanket, roller elements, and the space between these roller elements are perfectly suited for such thick stick but especially nice for tobacco wraps like blunts. the extra length make them much easier to use and while most blunts still range in the 107mm length, some of the new ones are longer than 110mm.
If you want a roller that will roll everything from king size papers to blunts to even corn straw or husks (yes people still do that with tobacco) then this new line from HBI under the ZEN or 420 label is for you. They have various styles but the only real difference is in the Cone roller version which will make a tapered stick. All the others reflect mostly cosmetic differences and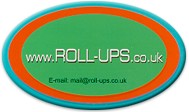 all that we tried worked on every material we could think of. You couldn't ask for a more versatile design and they are attractive and definitely conversation pieces, if you want such conversations to occur.
Now no sooner than we were pleased to announce that someone had come up with a 79 mm Rolling Box, (again HBI of course), which we reviewed in the last issue, a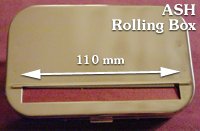 company by the name of ROLL- UPS in the United Kingdom has come up with a 100 mm rolling box. Again we feel here that longer is better and were pleasantly surprised at how well this new design works. In fact, Johnnie, at Roll-Ups, who we have been in communication with for a very long time regarding sales to the US and other issues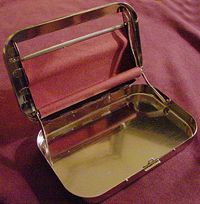 involving spreading the word in Europe about his products, has a whole new catalog of accessories that he intend to sell both at home and here in the US. His quality control has always been of primary importance to him and his product line is now such that I really think it is time for US distributors and retailers to begin considering these desirable imports. Tobacco is very expensive in Britain but accessories are less so than in the US. We will show you several of his products her, like his slim filter blanks (tips) and some pretty cool papers. It is tough to get new products into the US distribution chain and even tougher to get them on retail shelves, but this particular market has shown great interest in diversity and I think some of these products may catch on and become cult favorites. The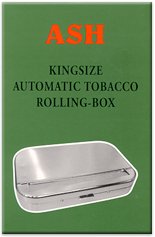 100mm rolling box is especially attractive as it addresses a market where there is no competition. And they are very nicely made.
Johnnie can be reached at the web address on the oval sticker above but in case it is hard to read, the address is www.roll-ups.co.uk . We are looking forward to some US response to

these products as we have some very positive comments coming from UK customers about this company. This is a global economy after all and some back and forth with a world partner as reliable and gracious as Britain seems a smart move both financially and diplomatically. His Bull Brand filter tips (shown below left) are the slim 6.5 mm size that only Wilson of Sharrow (reviewed previously) has addressed and the papers that I especially got a kick out of were the Basil Bush shown at right. Good thin sheer 110's with cool covers and good adhesive. I get a lot of comments on these when I pull them out in public and I feel fairly certain that the British connection is one that can be exploited (rude term but in a business sense, accurate) now more than ever before. These people (the Brits) are the best friends we have on the planet and should be treated accordingly. So even though there are disadvantages to overseas commerce (such as shipping costs), it may well turn out that the UK will be a source for some of those tobaccos that have disappeared from the American shelves, like the original Drum and 3-Castles to name only a few. Tobacco restriction as to import/export may soften in the future as more regulatory agencies begin to see the clear distinction between cigarettes and RYO/MYO products. We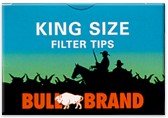 certainly hope so.
One word of warning about rolling boxes however, and this applies to all rolling boxes we have seen. The instructions on a typical rolling box (below right) reminds one not to use too much tobacco in the unit as it will cause it to be difficult to operate. In several previous units that we've reviewed, we found that to be an understatement. After I rolled a few dozen sticks to get the hang of these boxes, I then tried to roll a thicker (Camel unfiltered size) stick and when I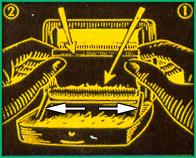 applied the extra pressure necessary to get the roller to work, I broke the thing. The upright supports (see white arrows in diagram) that stabilize the blanket actually bent outward, thus leaving the box useless from then on. As I said, if you follow their directions this won't happen to you and most people don't want that much tobacco in their stick anyway. Bottom line is that this extra long rolling box is a great idea and, if treated carefully, will make wonderful 110 mm smokes and shorter. Just take our word for the fact that overfilling any rolling box you risk damaging it. If it hangs when you first start to close the box, sop and remove some tobacco. In fact I would suggest that you always start out with less tobacco than you think you need. this applies to injectors and rollers as well. With these simple precautions there is no reason to believe these various devices should not last for years. We have no pricing yet on this item, but if you go to the website you will be able to convert the currency which is in British pounds. You can as a consumer purchase this item from the UK. There will be small custom duty charges but trade between our two countries is common and there should be no real hassles.

Let us know what you think about rolling boxes and especially your experience with them and if you purchase for the UK let us and our readers know of any pitfalls. We are, for the most part, injector-heads here at the magazine and would greatly appreciate any tips and experience you have had with any of the various products of this type that are available. Also Share with us any really unusual or older ones we have not discovered by attaching a JPEG of it (please keep file sizes less than 30k), along with a brief history as to how it came into your possession. We will likely use it in our next issue. If you have some real "treasures" share them with us and our readers. Contact us by clicking here or go to our Contact page for more information on how to get sample products to the magazine. Until next time - RYO - the ed.

---
We get a lot of mail about handrolling techniques and we feel it is pretty obvious how to accomplish this feat with simply tobacco, paper and two hands (in some cases one). So, we will continue to repeat the techniques, tricks and tips for true hand-rolling. As a preface, however, suffice it to say that hand rolling is mostly a matter of practice - not secrets. - RYO
Our thanks to Paul at TobaccoLovers.com ( http://www.tobaccolovers.com ) for the following graphics and text
Step one
Your thumbs and index finger on both hands, with the glue facing up and at the top.

The rolling paper should have a crease about half way down, so you make another crease splitting the difference in the bottom half. Resulting in a little V shape.

Step two
Pinch a heaping teaspoon out of the pouch with your fingers and plop it in the middle of the crease

Step three
Begin to level the tobacco off and start to roll it up

Step four
Using your thumbs and index fingers, work the tobacco until it takes cylindrical form (which isn't more than a couple of rolls, back and forth) then roll it up lick and seal. If you roll it too much it gets to tightly packed and will not smoke well. Next, pinch the shaggy scraps hanging out the sides and toss them back in your pouch to be recycled. then pick an end that looks the best and using your thumb nail or finger nail bend in the very tip of the paper inside the cigarette cylinder. This makes a rim and provides you with a more stable cigarette and prevents little scraps from getting attached to your lips.
YUPP!