There have been a few of new products in this category to attract our attention this time and all three have some interesting qualities that make them worth of writing about. The first and one that is truly revolutionary is the new Rizla
"Cigarette Size" tube. Though this tube is only .2 - .3 mm smaller in diameter than a normal king-size MYO tube, the differences are quite distinctive. This tube has a longer filter element than any other make your own king-size tube (22 mm as opposed to 17mm in most tubes with 15mm being the shortest). This extra filter element length in addition to the slimmer design makes for a milder smoke. However it does alter the flavor of your favorite tobacco. For some this is good while for others it may not be. We view this tube as a perfect transitional product for those leaving the packaged cigarette world. The injector that comes with it in the Starter Kit (and is available separately, of course), is a very good one. These tubes will not fit on a Supermatic but will just squeeze on a well used Excel or other injectors that have plastic (Teflon actually) nozzles. If you already are using another hand injector you will probably find the Rizla that is designed for this tube to be a better one. It is in fact one of the best hand injectors we have seen.

As to the smoking experience with this new size of tube, some observations: First because of the reduced diameter and the extended filter length, the smoke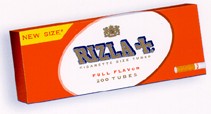 particles are more finely filtered thus leaving what goes into your lungs a finer particulate. This presents an interesting reaction as even very good rolling tobacco like say Bali Red (my favorite) begins to taste more like a manufactured cigarette. While this may not be optimal for my taste it is likely that it will please those who are leaving packaged brands as the experience is more similar. You can still taste the quality of good tobacco, it is just more subtle. Stronger tobaccos like halfzwares smoke quite elegantly in these tubes as do Turkish blends like Ramback. We were frankly surprised at this observation as we have always wondered what it was "precisely" that was different about manufactured smokes (besides the additives and tobacco quality, of course), or even the additive free American Spirit (which also makes rolling tobaccos), that made them taste so different than freshly injected sticks (even with the same tobacco as in the case of American Spirit). As it turns out, it may just be that the longer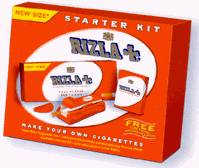 filter on a premade, which averages 20mm (the industry standard) as well as the reduced diameter that is at least part of the reasons that folks who truly like the taste of tobacco don't like manufactured brands. But MOST of those who smoke, smoke these brands and for them to migrate to the MYO world, a taste that is more similar to what they are leaving is a definite advantage.
We also noted that the extra filtration and thus the fine particles tended to be slightly more irritating to our throat than a normal MYO tube. This coincides as well with the experience of smoking premades after having used MYO product for a while. The point is that this new tube is going to increase the conversion rate and then after people begin to notice the wide variety of flavors available in rolling tobacco, they may opt for the more traditional tube. It is a win-win situation for both designs as it will increase market share away from brand name cigarettes while giving the smoker a chance to experience the flavor possibilities to come once their palette adjusts. This is a great product, a very attractive tube, a well made injector and though the tubes are a little more spendy, we think it is going to do well if properly promoted. It helps that this tube will fit on certain existing injectors as many who are into the MYO experience already will not be fans of hand models. We suggest you give this tube a try and the hand injector as well if necessary, and most conveniently, perhaps the Starter Kit. Then share your thoughts with us. The experience is unique enough that a most interesting dialogue should develop and we may all learn a lot more about why we smoke and why we have the preferences we do. These products will probably be available at the links for Premier 100s retailers below as these companies are always on the leading edge in stocking new products.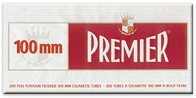 Clinton Tube (www.premiersupermatic.com) has finally released their new Premier 100mm tube and it is becoming an immediate hit. It is priced below the high quality Zig-Zag 100mm and thus will garner some serious attention in the future. We like both brands but those on a budget who want the 100 mm length will now have a more frugal choice to engage in the experience. This is a quality tube with a 20mm filter element and smokes well like all of CTC's tubes. Availability will increase according to demand, which is already high but at this point the Premier 100mm is available at www.americanthrusttobacco.com, www.ryotobacco.com, www.cigarettetobacco.com, and www.ryocigarette.com. These places we know have them and if you have been waiting for a lower cost 100mm tube, here it is.The box design is pretty mundane but the product inside is first rate and who the hell keeps the boxes anyway. Once again CTC has responded to the demands of the market and we are happy to see it happen.

McClintock (Peter Stokkebye, International) has likewise been busy expanding its offerings within this line. They have just introduced McClintock tubes and a McClintock Starter kit available in Regular, Light and Menthol. The kit includes a hand injector, their own

brand of tubes, and a 6 ounce can of tobacco. We tried the tubes at the NATO show but the box did not survive the trip home so we will show you the graphic as soon as we get one from Peter & company. The Starter Kits look very nice and, with this quality of tobacco, should prove a good introductory item for the new MYO enthusiast. The tubes are very good, king-size, European made products and look nice. White paper, cork tip. Though we always anxiously await new blends from the master Stokkebye, this is more of a marketing strategy and all companies, regardless of how good their tobacco is must at one time or another address market needs. We think the McClintock line deserves a namesake tube. We also think that much more is in the cards for future projects from Stokkebye. There are a number of fine Starter kits out there already from reputable names like Zig-Zag, TOP, Bugler, and others and each has a distinct function they serve as a one-stop-shop solution for the introduction of MYO to the inexperienced. These kits start a lot of people on the MYO road and with good quality ones like mentioned above, the migration rate is always higher.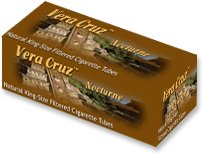 And finally we have an introduction date on the Vera Cruz "Nocturne" tube. It will be ready by the July RTDA show in Nashville where it will be introduced. If you think the Rizla "Cigarette Size" tube has innovative impact, just wait until you see how the MYO world is transformed by this upscale, reasonably priced beauty. The tube is a light brown with a marbled suede color tip with gold and black bands. It is even more attractive when lit. As the ash forms during the burn it is almost pure white in color much like a great cigar. A great contrast to the rich brown tube. A truly elegant experience awaits and it is almost here!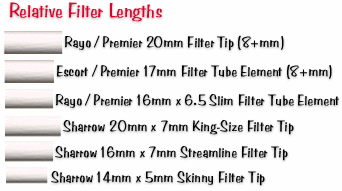 For your own information, the relative sizes of filter elements are shown below. These can be compared to what we have written about this time and remember the industry standard for a manufactured cigarette is a filter element that is 7.8mm is diameter and 20 mm long.
This is all we have for now from the world of tubes. As more new designs come to life we will test them and let you know what we think. For those of you new to all of this, we suggest you consult our Archive section as every tube in the world worth writing about will be found there. Until next time keep in touch and let us know your thoughts on each of the products we review. This is a fascinating subject that is shared by many hundreds of thousand of readers and each of us want to know what the other person's impressions are. We look forward to hearing from you. -the ed.