This section will be updated further in a few days and will concern the fact that no matter how intricate and well planned our attempts at sane regulation of everything from business practices to criminal behavior evolve, we still seem to be having little luck in devising strategies that work for more than a specific time or situation. Why is their no "Unified Field Theory" as posed by Einstein but applied to society as a whole. Why are so many human's content to let others control them, seldom to the benefit of anyone but the controllers. Why can't we keep our small house clean and orderly. Is it possible that we are all still basically savages whose motivations are greed and domination over other. Are we too angry of a species or have we gotten mad enough. As I embark on yet another journey, this time to Phoenix for some music related business, I am going to write this column on the road. I think it is time for me to take a look at a cross section of our species and one can find few opportunities for diversity as dramatic as those fellow travelers (the good and the bad) one meets on the road. My language skills certainly improve I drive or at least the size of my vocabulary. Until next week (approx. May 20th) take a look at the tables below and glean as much common sense as you can from these statistics. When looked at as a unit these two sets of data are in considerable conflict with one another as are the agencies that produced these very data sets. - Doug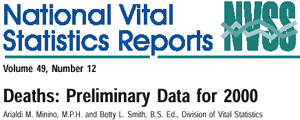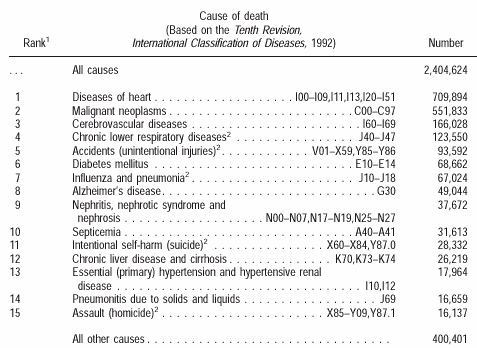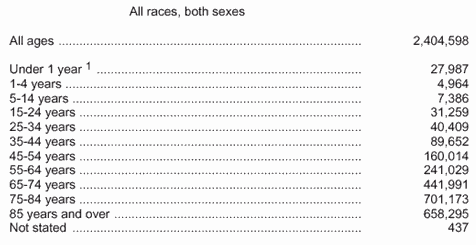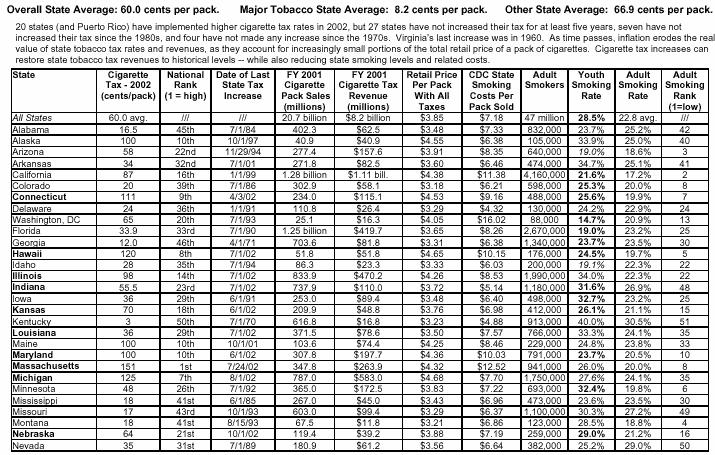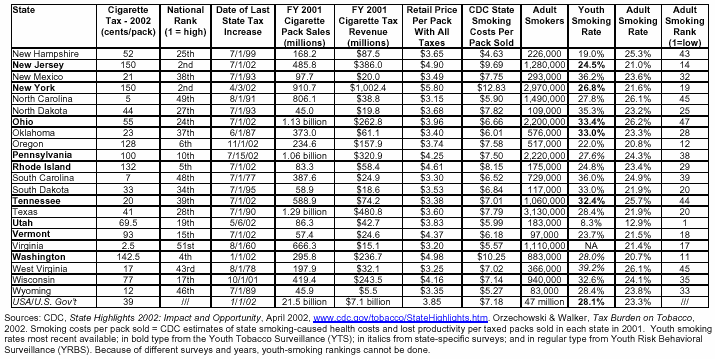 Until next time, enjoy - life is tenuous and should be enjoyed aggressively without regret - without fear - be just selfish enough to do simply that. - the ed. As usual, repeated below are some interesting links so that you can keep abreast of vital issues that affect 50 million voting age citizens in the US.
---
1. http://www.smokersalliance.org - The National Smokers Alliance
2. http://www.forces.org - FORCES - A national smoker's rights organization
3. http://www.smokers.org - The American Smoker's Alliance
4. http://www.fujipub.com/fot - Friends of Tobacco - A Tobacco and Smoking information clearing house
5. http://www.junkscience.com - A highly entertaining site exposing fraudulent and expensive scientific extrapolations.
6. http://thomas.loc.gov - Current, past, and pending legislative actions, bills - a huge resource organized by subject.
7. http://tobaccolovers.com - A new and growing resource for tobacco related, history, techniques, and links.
8. http://www.smokerscorner.al.ru - A new Eastern European site with a variety of informational sections & services
9. http://www.cato.org/pubs/pas/pa-366es.html - a "White" Paper produced by the CATO Institute covering the Shelby Amendment which requires that all aspects of research whose findings lead to legislation being enacted be made part of the public record available to all. Fascinating reading.
---


Click here to view timely correspondence from our readers
And here to submit your comments
---