We all have been to a trade show or something similar at least once in our life. For me, one of my favorites things to do is get together with all of my friends who enjoy great tobacco and who know a lot about it at the spring show once known as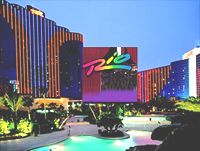 the ITE (International Tobacco Expo). The ITE is no more but it has been replaced by the NATO (National Association of Tobacco Outlets) Convention. It is held at the same time of year (March) and like the ITE, it is held in Las Vegas, this time and next, at the RIO Hotel. Much controversy inside the industry arose from the transformation of ITE to NATO but all of that is past us now and details of the transition are really of little import today. We will miss the ITE, but this year's NATO show appeared to be a great success, thanks to Sharon Wayne and her able staff. Many of the same people who put together the ITE are on board, including Sharon, for this new venue and brought with them a great deal of experience in these kinds of events. Of all the annual tobacco shows, the old ITE and now the new NATO seems to most friendly to the RYO/MYO environment. Consequently, a large percentage of the exhibitors are from this industry. This event is a great opportunity for us to have a face-to-face with all of the folks we talk with on a regular basis and to look at their newest products. It is also an opportune time to meet all of the new players who are fast emerging as serious contenders in this dynamically evolving industry. Like most secular industry trade shows, these events are not open to the general public. The attendees are for the most part retailers, distributors and others partially or wholly involved in the sale of tobacco products. And of course folks who write about the industry like RYO Magazine. Because the general public is not in attendance we feel it important to share some insight as to what goes on during these conventions, with our general readership.

The flavor of these and other shows would be pretty dry were one not interested in the product being highlighted, in this case tobacco. We are, of course, and so we have a fascinating time. The setting of the RIO and Las Vegas in whole do offer the opportunity for other diversions if you like the Vegas experience. I am not a big fan of all the glitz and glamour as I am more of a cut-offs & T-shirt kind of guy and I am nothing short of being an albatross at the tables or slots. Nonetheless we always have a great time at these events, the food is superb, you can smoke almost anywhere you want and obviously with the samples available at these shows, you can sample all of the best.

There are some really remarkable people involved in this industry. They run the gamut from extremely suave and elegant folks to some real down home personalities. Characters id you will. And sometimes it is hard to tell the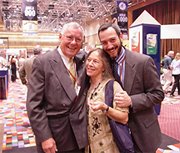 difference. One of our favorites and a good friend is Peter Stokkebye. He, being now semi-retired, does not make all of the shows but he always makes this one. He is, without a doubt, the most singularly recognized icon in the tobacco business period. He represents the third generation in a fourth generation tobacco family. And he is a hoot to be with. The folks that work at Stokkebye are a diverse group of professionals who are dedicated to excellence and are truly nice people. The Stokkebye booth always attracts a lot of attention, especially when Peter is around. At left you can see our associate editor Linda Roberts undergoing her annual molesting by the master, Peter Stokkebye and Brian Levine. Brian and Peter are polar opposites or so one might think with probably 35 years separating them, but the truth is they both are funny as hell and you have to constantly keep an eye on them or you will be the victim of a prank of one sort or another. Throw in Morgan Snead, whose leisurely southern drawl can lull you off guard and you are in for a E ride each time one gets together with this respected group. You can get some idea from the picture above of just how massive this show is, with hundreds of exhibitors filling several convention areas of the beautiful RIO hotel.The NATO Expo is second in size only to the RTDA (Retail Tobacco Dealers Association) show held in July.

At right, Mark Ryan from D&R Tobacco and Ric Glaubinger from RYO Tobacco (Mark is on the right with Ric left) are pioneers in their own right representing first generation mastery in the specific area of Roll Your Own and Make Your Own retail. Few people on the planet have the accumulated knowledge that these two have regarding the packaging and selling of this industry's product. Mark's company is located right at the center of where much of the finest tobacco is grown, (North Carolina) and is an expert on the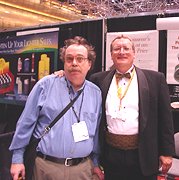 tobacco plant. Ric, from Austin, has an international knowledge of the tobacco trade that is astounding. Though their companies compete, like many others in this business, they spend a lot of time generously sharing information, all to the ultimate benefit of their customers. This kind of business relationship is yet another reason for my passion about this industry. Both of these guys approach the business and these conventions with gusto and are not the kind of people you want to be around if you want to have a restful few days.
I suppose it is necessary to emphasize here that while Mark is usually an exhibitor at these events and Ric, is a buyer/retailer, both are sought out by a great number of the many attendees that know them for their extensive knowledge.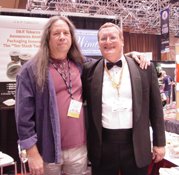 Mark was the first person to take the retailing of MYO/RYO products to the Internet. I first found him in 1995 while searching for Turkish tobacco and injectors and that was three years after he opened his online store. He remains an authority on the web based tobacco business and his company at www.cigarettetobacco.com has customer service ratings that are astounding. Ric enjoys extremely high customer satisfaction ratings as well and has quite a number of other online businesses, some tobacco related, like SnuffShop.com, LittleCigars.com and others as well as an online shaving supply shop. You can see all of his enterprises when you go to www.ryotobacco.com. Now before going any further it is important to note that it was a terribly windy day in Vegas so most of us looked pretty haggard and wind blown by the time we got into the arena and I began the camera action. Ric looked like he had been testing electrical outlets with his tongue and Mark's hair was so flattened down by the wind that his head appeared in these photos much too small for his svelte, tuxedo wrapped body. And those that know me are aware of the fact that, under normal circumstances, I look like a bronze god.
So for reference sake, I share with you my image with Mark at left and with two relatively new forces in the MYO/RYO business, Bill and Brian from H&R Tobacco at right. H&R is the kind of business that can greatly benefit from exposure at conventions like NATO. They have a fine line of tobacco products and fit right in with the image that the RYO/MYO is known for. Low key advertising and promotions backed up with great product and service that typifies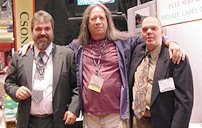 this industry is in sharp a contrast to the mass marketing techniques that got the Big Cigarette companies in trouble over the years. When they are not trout fishing the Snake River in Lewiston, Idaho, they are servicing their growing base of retail and distribution outlets. A class act indeed.
There a literally hundreds of folks I look forward to seeing each year at this particular convention. The spirit of those involved in this sector of the tobacco industry is definitely more down to earth than the corporate driven formalities of most major cigarette companies. Though their participation in these affairs, at least up until the present is an important, perhaps even vital, contribution to having large conventions such as the NATO show, we at RYO Magazine as well as most of the creators and purveyors of MYO/RYO products look forward to the day when this industry covets a large enough share of the market to have expositions dedicated solely to the kinds of products one historically found in great tobacco shops. Specifically products like rolling tobaccos, pipe tobaccos, cigars and high end cigarettes as well as accessories that dazzle the eye and exude a warmth that emphasizes the hobbyist/connoisseur nature of smoking. Those great old shops were treats to the eye and nose. During my college years I frequented one of several Tinder Box tobacco outlets in southern California. These were beautiful places with beautiful humidors and tobacco jars, rich wood cabinets that held treasure of both utilitarian and extravagant purpose. The smell was wonderful and the people behind the counter KNEW their products. They were aficionados. They didn't sell Camels and Marlboros. No, instead if packaged smokes were you pleasure they had great cigarettes like Balkan Sobranies, Turkish Special, Sherman Turkish Ovals, and many other imported brands that, while more expensive, were special treats to be enjoyed and not consumed in mass quantities.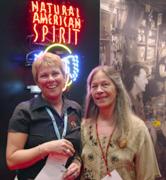 There are still shops like that in the US but there number shave diminished greatly. When you find one you will recognize it immediately. That is the atmosphere that is created by many of the exhibitors at NATO that focus on the Roll Your Own Market.
There are even cigarette makers who have adopted (or maintained) that elegance and purity to the experience. One such is American Spirit. Yes, it is true that this innovative company sells packaged cigarettes (quite a large number as a matter of fact) and their products often wind up in racks next to the more traditional big name brands. It is also true that they are now owned by RJ Reynolds. However there is a distinction with this company, that we address in our Tobacco Section in this issue, that bears repeating. American Spirit natural tobacco cigarettes, some of which are among the best in the world for a packaged smoke. But they also make rolling tobacco, and some pretty good ones at that. Their US Grown blend can stand beside many of the greats of Europe in its quality of cut and flavor. The company is indeed in control of its own destiny despite its new ownership by RJ Reynolds. They introduce new blends in the same manner the rolling industry has done throughout its history and they attract a warm and interesting group of folks to represent them. One of our favorite people in this business is and has been Sherrie Derrick. We first met Sherrie when she was working with Peter Stokkebye. She left there to add her talents to Santa Fe (American Spirit) a couple of years ago. We know she is missed at Stokkebye and American Spirit is fortunate to have her experience, taste, and professional demeanor working in their camp. She and Linda, our associate editor, are especially great friends and we always have interesting conversations as to the future of Make Your Own and now especially how the two market sectors (packaged and make your own) can provide a singularly effective and honorable approach to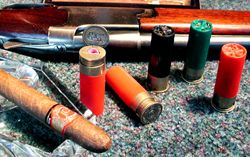 marketing tobacco products.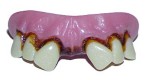 Of course tobacco is not the only product that one looks at at these conventions. In fact it is not even the majority of things. The tobacco business from the retailers point of view is accessory driven. With state and federal taxes even on rolling tobacco products at an all time high, most stores are lucky to see a 30% return on their investment in tobacco inventory. Accessories like injectors, papers, tubes, cases, humidors, and certain eye-catching point of sale items are a big hit at these shows and generate the added profits necessary to keep most tobacco outlets afloat. And some of these "toys" if you will, are really fun to play with and look at. They range from the truly wacky, Billy Bob Teeth, (www.billybobteeth.org) shown above to many other novelty items like Shot Gun Shell Torch Lighters from Csonka ( www.csonka.com). There are literally thousands of these fun and surprisingly profitable items on display at an Expo. Of course there are the ones that are far more practical like injectors, pipe tools, pipes themselves, humidors. lighters and the like, but one of the most innovative and timely items to show up is the Csonka Smoker Cloaker. The fact that this device works, and it really does, is only part of the story. It is really an Ozone (O3) generator not a filtration system. By generating the negative ions that are associated with ozone, smoke and other odor producing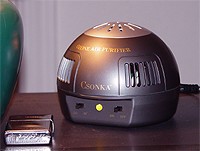 particles are cleansed from the air as they attach to the negative ions and fall out. There is a slight ozone-like odor but it is soon unnoticeable and the unit after only a very few minutes of operation gets rid of ALL smoke odor. Why is this so important.
Well to begin with, we as outdoor smokers are such because we really don't like the smell of stales tobacco smoke. I enjoy the flavor of fresh tobacco smoke and smoking out of doors, in my opinion, increases the enjoyment substantially. However, certain environmental factors can make this difficult, especially temperature, and air pollution. There is a bigger issue. In some states it is becoming illegal to smoke in your own residence (an apartment for instance) if the smoke is noticeable to your neighbors. This new invasion even includes certain single family residences where house are very close together. It will eventually come down to smoking regulations imposed on people who are in the privacy of their own home, whether or not the smoke is actually reaching your neighbor. The fact that they know you smoke may be enough for a complaint to be filed and a fine imposed. This is not a science fiction, big brother, 1984 scenario. It is happening already and will probably get worse. The key to this whole problem is the smell of cigarette smoke. Few people complain about a nice pipe tobacco, while cigars are often taboo even in establishments where smoking is allowed. This little device completely rids the air of the "smell" of tobacco burning. I have not seen anything yet that compares in its ability to do this rather complex thing. Not expensive filtration systems, nor exhaust fans, or even smoke "arrestor" which zap the particle and cause them to like wise fall to the floor or into a filter. Even these system combined (which is a very expensive solution indeed) are not as effective in eliminating odors as the Csonka Smoker Cloaker. And it works with food odors like garlic, fish and onions as well. these unite usually retail in the $200+ dollar range for the baseball sized Original design which I tested for a month, and while this may seem rather extravagant, if indoor smoke odor is a problem, there is no other solution we have found other than to stop smoking indoors. This one comes with both an AC (wall wart) adaptor as well as a DC for you auto or RV. There are several other styles and price ranges for various sized spaces. The small one pictured above we tried is supposedly good for 1000 square feet. We tested than in an office about 3/4 that size and it did the job very quickly (less than 5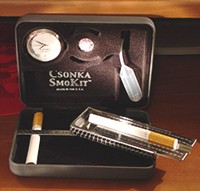 minutes for cigarettes and about 10minutes for really robust cigar smoke). These things are the real deal and we recommend them as a bargain even at the price. Hell, it sure beats moving because yopur neighbors complain about your smoke.
Speaking of moving, the SmoKit is another Csonka innovation that drew a lot of attention at the show. It is a multi-function kit for holding and carring for your tobacco with a clock thrown in for grins. For the smoker on the go, the case holds both King-Size and 100 mms (depending on which direction you line them up), and has a very functional clip that holds your smokes (and the tobacco in your sticks) in place far better than the spring loaded kind that comes with most cases. There is a humidifier button that you fill with the little squeeze bottle you can see at the right side of the case. Below the bottle in the photo is the portable ashtray that fits neatly in the slot where the name Csonka SmoKit appears. All of this in a luxuriously padded leather case that snaps shut and actually stays that way until you want it to open. While it is a little bigger than a normal case and won't fit in most shirt pockets, it fits well in coat pockets, brief cases and purses. Very well thought out, this little piece of luxury is quite affordable, no more than most descent cigarette cases and the clock actually keeps accurate time. Another bit of practical, well engineered fun trom Csonka. www.csonka.com

No tobacco show would be complete with out all of the great names in the rolling industry. Names like Zig-Zag, Lane LTD, Republic Tobacco, Gizeh, and many smaller organizations whose products we review frequently. There are smaller entities like F&K Cigar (Charles Fairmorn) and the much larger Arango Cigar (Jason, and Sportsman Vanilla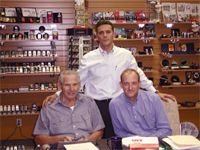 Rolling tobacco) who produce, or distribute very special products and don't always get the mainstream attention they deserve. There are very large distributors like HBI and Robert Burton Associates and HJ Bailey. Of all of these, Clinton Tube (CTC) probably has had more impact on the MYO experience than any other company. They make the Supermatic and Excel lines of injectors as well as a large number of tubes under their name and for many others as well. Without the table top crank injectors like the Supermatic, MYO would remain a small niche. Once they try a table top injector like these few people return to packaged brands. We speak often of Arnold, Gary, and Stephane (at right) with whom we have very warm and productive friendships. A new face ( I don't have a picture, the lens was steamed up for some reason), Tamara, Stephane's highly (scary) intelligent and drop-dead gorgeous new assistant made her debut at the show. But,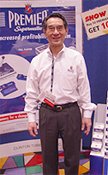 Anthony Liem (at left) is THE one many of you will speak to if you need help with a machine or with a tube order. He manages CTC's New York facility and is one of the sweetest people you will ever meet. I could not resist putting his picture here as too many people have never seen this gracious individual. The smile on his face is authentic. It is permanent and infectious. And Anthony does well to keep the rest of us in line after each show when we begin to haunt the drinking establishments and offend (good naturedly, in our opinion, of course) most of the staff. He took videos of us on his nasty little dvcam this year while we were partying and it is on his good nature alone that we trust we need not worry about blackmail at some later date.
At each show there are new contenders in the MYO/RYO world and that is part of what makes the Expo environment exciting. There are hundreds of companies out there busting their tails and risking serious venture capital to bring the consumer new and better products in the MYO/RYO category. We thank them in person and you should thank them by purchasing their products even if you have not heard of them or tried them before. Remember the MYO/RYO philosophy is one of adventure and experimentation.

With that in mind the possibilities are endless for finding that perfect smoking experience. It is a fact that as people enjoy the taste of great tobaccos packed fresh into a high quality tube, their smoking becomes less of a habit and more of a controllable hobby where each stick is savored and overall consumption is reduced. We hope our constant reminders of the value of moderation is appreciated. We and many of our readers have found an exceptional way to enjoy tobacco as it was intended and we hope all of you that smoke will share the same experience. If it should so happen that you get an invitation to go to one of these shows (by your tobacco shop) or if you are a retailer and have not been to one, you really owe it to yourself to make the trip. Vegas is beautiful in the spring and you will be amazed at how much there is to see at the NATO Expo each year. You can visit their website at www.natoexpo.com
Until next time, enjoy and share.