There are some truly wonderful people in the Roll Your Own and Make Your Own industry. This business seems to attract affable, articulate, and dedicated folk who make writing this magazine a labor of love. If one name stands out, a name that everyone is familiar with, a name that without exception brings a look of respect and pleasure every time it is mentioned, this name is Peter Stokkebye (stow-ka-bee with the accent on the first syllable). I have yet to meet anyone with anything but kind words to say about this man. In fact, when you meet Peter, he becomes an old friend - instantly. Some of this admiration no doubt comes from the man's incredible knowledge of tobaccos and for those that know Peter and his family's history, this knowledge has come through generations of dedication and hard work. For those readers unfamiliar with the man responsible for such truly first class products as Bali Shag, McClintock, Long, the Stokkebye Private Labels, like Amsterdam Shag, Norwegian Shag, Danish Export, in addition to Zig-Zag's Gold Standard Halfzware, Cigarettes Cheaper's Noble and Geronimo blends, Master Roll, and far too many of the world's finest pipe tobaccos to list in this article, as well as a line of cigars and premium collector grade pipes, which sell on E-Bay for upwards of $1,000 per pipe, let's introduce him with the short biography that follows:

In 1882, the Stokkebye Company was founded by Peter's grandfather, Erik Peter Stokkebye, in Odense, Denmark. The senior Erik learned the art of hand rolling fine cigars in Copenhagen and at the age of 24 opened his first retail cigar shop, making cigars in a back room on the premises. Grandfather Stokkebye expanded his business quickly to include premium pipes and chewing tobaccos. His fame spread rapidly throughout Denmark. His son, Erik Poul Stokkebye, took over the family business at the age of 28. Now, unlike royal families who pass down power and control by lineage rather than experience or knowledge, every Stokkebye before being allowed a position, much less the reigns of the company, worked extensively in all aspects of the business and, each in turn, became masters of the trade. Erik Poul, Peter's father, studied extensively in Denmark, Holland, and Indonesia, the art of tobacco manufacturing. His clientele as the head of the Stokkebye operation included Sir Winston Churchill and was responsible for founding the Stokkebye Tobacco Museum, one of the world's most comprehensive collection of tobacco memorabilia. Peter, as a young man, served King Frederik the Ninth of Denmark in the Royal Guard at the Copenhagen Palace. The young Stokkebye, age 19 in 1950, can be seen in full guard regalia in the left side of the photo collage at the top of this article.

After serving the King, he joined the Wilhelm Lange Company, a well known manufacturer of cigars and tobacco products. Three years later, he joined Burger Sohne and Vautier Freres in Switzerland where he learned the premium cigarette manufacturing trade. After two years there, he journeyed to the fields of North and South Carolina, Kentucky, Tennessee, and Maryland where he gained an extensive knowledge, from the ground up, of leaf tobacco with the Universal Leaf Company. He then became Leaf and Quality Manager with the Ed Larens Cie Company returning to Switzerland which became his home base for his world-wide journey in search of quality leaf. In 1962 at the age of 32, having well paid his dues, he joined the family business. He concentrated his efforts in bringing mild aromatic tobaccos to the ripening North American market to which his company continues to supply a substantial share of products.

Peter's oldest son, Erik, joined the family business in 1987 as a fourth generation member who likewise earned a reputation as a sales and marketing expert after apprenticing for many years in the tobacco business. In all, over 100 years of expertise in the world of fine tobaccos from field to manufacturing, marketing a consistently world class series of products. Backgrounds this extensive in the tobacco business are rare indeed so when a Stokkebye product emerges, you can bet it has been looked at in all aspects by the best of the best before release.

But the story goes far beyond this impressive family background. Peter's gift for innovation and imagination is unequaled in this business. At a time when Drum, Bugler, Top and Bull Durham were the mainstays of the US hand rolling market, Peter envisioned a smoking public that was ready to take a step up in quality and sophistication. Though already successful in Europe, his Bali line became an immediate hit as well in the US and among real tobacco aficionados the three blends (soon to be five) that carry his name have been, for years, the tobacconist choice for pleasing their very particular customers. And every time he created a European style blend for the US market, he matched it in quality with a more American-like flavored blend like the Bali Red and Danish Export. His McClintock Green won immediate favor among the price conscious and is now considered one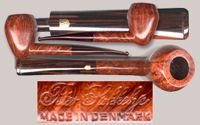 of the finest tobaccos ever offered at any price by a very large, loyal following. This fine tobacco was replaced last year by what appears to be a milder, light Golden Virginia McClintock along with a full flavored Red version to give that American smoker more of the punch they are used to.
The Peter Stokkebye limited edition pipe (I got one!), shown at left, is considered by many the finest pipe of its kind in the world. When he sent this treasure to me, I told him I was going to keep it in its leather case as a collectors item . He insisted I smoke it and not sit on it, or else he wouldn't send it to me. I greedily followed his advice, and I must tell you, it is truly unbelievable, delivering a cool sweet aroma and taste unlike any other pipe I have ever used. So, damn the collector value! I now smoke it every day.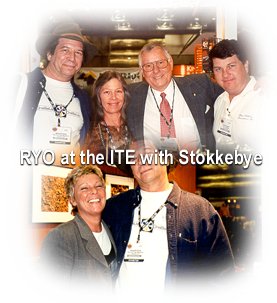 We had the opportunity to spend quite a bit of time with Peter (photo at right, center top row) and several members of his organization (who we have had a productively ongoing relationship with for some time) at the ITE (International Tobacco Expo), and this man's remarkable good humor, kindness and willingness to share his knowledge manifests itself in everyone who works with him. When you deal with the Stokkebye company, your work day seems a whole lot less like work. And when you use the Stokkebye line of products you can be sure that all of the energy, flair, and knowledge has preceded your purchase. Throughout the organization you find real people who actually use and appreciate the products they represent.
Peter is semi-retired now (although you would hardly know it by his presence and involvement with products he is truly proud of). With his highly capable oldest son, Erik, now at the helm, Peter is still very actively involved. You will find him at many of the trade shows and on a constant globe-trotting journey to discover and develop new tobacco blends in the highest tradition of the company his grandfather founded over 100 years ago.
A good example of the kind of man Peter Stokkebye is can be well represented by his reaction to my insistence that the new, yellow packaged, McClintock Mild Golden Virginia was quite a bit different than the original Green despite labeling on the new can stating that the blend was the same. I cornered him (it's my job after all, and believe me, it wasn't a particularly pleasant thing to do given this main's reputation and warmth) on this issue at the ITE. It so happened, I had a bag of the discontinued original Green with me. (I still have a case or so for my private pleasure.) Sensing never a moment of discomfort or offense from him, we stood there together while he hand rolled (quite efficiently as a matter of fact) each of us one of each, the new and old. While the taste was similar, there was discernable differences in color and flavor. I was soon introduced to a course on Tobacco Aging 101 where it became apparent that the Green I had with me had probably aged quite a bit compared with the newer yellow and, according to all of his information, they were supposed to be EXACTLY the same blend. I told him it was not of great consequence as I suspected that the new lighter blend may find even more success in the US market than the original Green (which we have seen proof of in our readership e-mails and in our experimental store where we carry both the Green and Yellow side-by-side). Although we still have no definitive explanation as to exactly what the differences are, Peter made it a point to get everyone who walked by his booth to try both and give their opinion. Few could tell any difference other than the occasional comment of a little darker, more somber flavor associated with the original Green. I told Peter our readers were noticing a difference as well (which lends credence to the degree that these folks loved the Green original). Peter was on a plane for Denmark, Turkey, and Greece within the next week looking for new tobacco and looking for an answer to the apparent anomaly.
In the meantime, I have noticed that some of my new gold blend, that I set aside for just such an experiment, is beginning to darken and is getting a deeper flavor. The point is, this man who could have slid away from the subject, (we were literally being bombarded by star struck fans of Peter's while we talked at the booth that day) spent many hours in the next few weeks investigating my observations. When I told him, in a recent phone conversation, that my older yellow was beginning to darken, he clucked knowingly but still showed concern for the public perception that something had changed. To this day, he maintains that this tobacco is identical in content with the original and, as mine ages, I am beginning to see his point of view. What is more to the point is that, while there are very few master blenders of tobacco on earth, there are even fewer who will ever discuss their products intimately, especially with the press, especially someone as determined as I can be. (You must remember that I deal a lot with politically appointed heads of health departments, research interpreters, and anti-smoking zealots as well as some pretty wiggly back-office marketing types who are not exactly always straightforward by nature). Now, it is highly unlikely that Peter has the time or the capability of actually blending the tobaccos himself. He (and perhaps Erik) create the formula for the blend and others do the blending. However, it is also unlikely that those who do the blending are not scrutinized closely by both Peter and Erik as to the outcome, and are accountable to both in a major way.
Whatever the outcome of the debate over the Green versus the Yellow, you can bet that there will be no holding back of what information surfaces. Stokkebye simply doesn't do business that way. I like both blends. And, if it should become apparent that these are in fact different blends, the next obvious step is to get Peter to make me up some of the original, adding to it a 50% Turkish Yenidje component which I can private label myself as Kennedy's Original Aged Turkish Blend, and soon after, retire to the beaches of Todos Santos with my laptop, surfboard, and a perpetual ten foot south swell as my only challenges. - the ed.