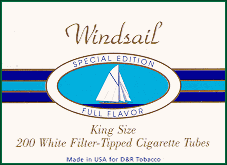 We, on occasion, find ourselves in much the same dilemma in covering and reviewing filter tubes as we do when examining rolling papers. The differences in the various manufactured tubes is pretty slight. This is, in no small part, due to the fact that there are only a small handful of tube manufacturers scattered throughout the world despite the large number of brands available. CTC (The Clinton Tube Company of Canada) is a major manufacturer of filtered tubes for a large number of companies and, over the time we have been reviewing tubes, we have found that CTC does a very good job in all of their own and private label designs. We have yet to see a Clinton Tube with that tell-tale burning newspaper taste found in certain less expensive, poorly made tubes. Their Escort Light in-house brand is among our very favorite with their Premier a close second. Both are among the lowest in price and highest in quality.

We discussed the private label scenario in our Tobacco Review section in this issue and, if you've read it, you may therefore recall that private labeling is becoming a popular activity in all areas of product manufacturing. A good friend of ours, and a completely energized participant in the world of RYO/MYO entrepreneurs, is Mark Ryan of D&R Tobacco. Recently, he decided that he wanted a tube of his own, made to his own specifications. The result, after a good deal of time and investment, is the Windsail Tube. Now Mark did not want this tube simply out of vanity for his own namesake. Rather, he recognized the sudden lack of a white tipped full-flavored tube after CTC sold off their Filter-Rite brand to another company who, in turn, immediately changed the tip to a brown cork design. Recognizing that many people, especially women, prefer a white tip and don't always want the light version that is often associated with these color tips, Mark took the bold move of creating his own line. He approached CTC and they made the tube for him. It comes in a very nice looking box and the tube itself has some of the much need designer decor that is missing from the often mundane

looking MYO tube market.
Now all of this is interesting and we applaud Ryan for his courage in entering a venture with already so many players. However, what struck us as more interesting is the fact that this particular tube is unusually well made and pleasant to smoke. It is a full flavor but smokes fairly light, while losing none of the tobacco flavor. It seems to filter out a great deal of the bitterness one can experience as a cigarette begins to burn down. These are remarkable tubes and we, who are not fans of white tips, have found ourselves using this particular product far more than we initially anticipated. Ryan, through his online company D&R Tobacco (http://www.cigarettetobacco.com), plans not only to sell them online at a very competitive price, but in the local store he is building in Smithfield, North Carolina. He also plans to offer them to other distributors and we think, frankly, he will find an audience. Though we have no idea why, it seems than most men prefer cork (brown tipped filters) while women prefer white. This of course is not always the case, but demographics show it certainly is a majority opinion. We wish Mark Ryan the best of luck in this venture as it is important that there be many players of all sizes in the MYO industry. As is often the case, innovation usually comes from smaller entities as the cost of change for a large enterprise always seems to be inordinately high. Whether you like brown or white, if the tubes you are using are not satisfying your taste, you should give Windsail a try. Cool name, too!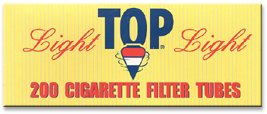 Republic Tobacco's TOP tubes have been traditionally most visible as part of their starter kits with the only box size available being 100 count. We have liked the look of the TOP regular flavor tube for quite some while, (the tip is a darker brown than most) but their lack of visibility in the distribution channel led us to believe they were more of a multi-part package accessory than a stand alone product. Some distributors carry the 100 count boxes, but not too many. Their white tipped, attractively decorated light tube now makes its debut in 200 count boxes and at a very competitive price. These (perforated for lightness) tubes are neutral in taste and, as stated before, though most good tubes are pretty much the

same, the fact that they don't stand out in any offensive way is as good a recommendation as tubes usually receive. I personally like them though I have no idea as to the manufacturer. I suspect they are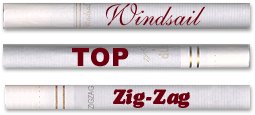 European in origin coming either from the factory that makes Zig-Zag lights, Gizeh or Rizla. If GOOD quality tubes like these are pretty much the same, then price and availability are the only other factors logically left to consider. Republic should be competitive on both counts.
One last comment on tubes in general. Our philosophy here at RYO Magazine is that there are many factors involved in the potential success of MYO smoking. Judging from the rather cosmetic criteria that many Americans often use to decide on which products to buy, we submit that it is time to dress up the tube market with more "designer" like tubes. Sherman's and most boutique cigarettes owe at least a fairly large part of their success to the appearance of their smokes. Fancier tubes with more color, lines, and other design elements will help change the impression held by many packaged cigarette smokers that MYO is the province of the poor. In other words, folks who can't afford "real" cigarettes. This impression must change or MYO may one day find itself type-cast into a marketing category that has one very long plateau. It has happened before. Both of the tubes reviewed here this time as well as the Zig-Zag Light tube pictured with them above are all definite steps in the right direction.
As Always, let us know what you think - RYO

---