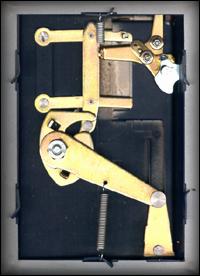 It was with a great sense of anticipation and excitement in the last issue that we finally got a look at the long awaited upgrade of the industry standard Supermatic. During that last issue's creation, a prototype of the machine showed up and allowed us to make a thorough but potentially premature analysis of the new wonder. It is always better to see a real world sample from a full production run than a (nearly always perfect) prototype. Now this machine was rumored to be a major upgrade and, for the most part, the prototype delivered splendidly. Looking now at a later, full-production run sample, we are even more impressed. It is an absolutely beautiful piece of machinery, a dark navy blue textured top sitting on a textured gray base. As previously reported, the bottom of the machine is now covered with a much welcomed full length rubber pad (probably to the chagrin of those who make Supermatic pads) that addresses one of the very few problems we observed with the original, that is, its tendency to slide around and scratch nice furniture. The internal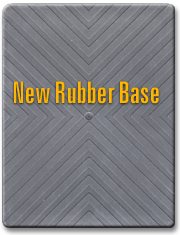 mechanism, while not truly a complete redesign, has been upgraded as well, with extreme attention to detail and consistency of construction as well as a new anodized brass colored finish on the metal injector system components. This thing looks like a fine watch inside. The performance is outstanding and, given the attention to detail on the finish of the internal parts, one should expect the reliability and durability of the machine to be measurably enhanced. This says a lot about a machine that has already proven to be eons ahead of the competition in performance and longevity. It will inject tubes up to 100mm in length as well as non-filtered tubes (neither of which are widely available yet in this country though we're told they are sold in Europe and are slowly showing up here (*See the Maiker article below). The labeling on the machine is quite masterfully appointed and we found the action to be smoother, crisper and, in general, even easier to use than the original. And to top it all off, the new Premier Supermatic now comes with a limited LIFETIME Warranty. Pretty hard to beat!

While there are a number of manufacturers of injection machines, we have made it quite clear from our debut issue nearly two years ago that, in our opinion, the crank style injectors, specifically the Supermatic line from CTC, are the single most important ingredient to a committed and successful migration to Make Your Own (MYO) smoking. It remains remarkable to us that no other company has endeavored to make a competing machine along the robust lines of these formidable injectors. Having said that (again & again), you can now rest assured that CTC is here to stay with a dedication that has significantly increased over the past couple of years, one that is as admirable as the generation's long commitment of fine tobacco makers like Stokkebye. This machine could well fit into the ambience driven design of upscale living rooms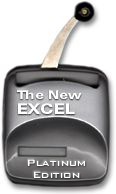 and dens and no longer need be relegated to the workshop-like corner where many have typically accomplished the injection of their little treasures. An important step, to say the least, in bringing Make Your Own from the closet and into the packaged cigarette smoker's world of legitimacy.
Accordingly, CTC is upgrading the Supermatic II and their value priced most excellent Excel machine as well and we were equally excited at the prospect of getting our hands on each of these. As of this writing, the Supermatic II upgrade is still a while away (a couple of months) from full scale production but we did finally receive three new Excel machines. Before we tell you what we found upon examination of the new Excel, you must keep in mind that while the Excel has always been a reasonable performer at a very good price, after seeing the new Premier Supermatic, we wondered what CTC could possibly do to keep the new Premier from totally eclipsing the debut of the smaller, cheaper Excel. From a practical point of view, there is not THAT much difference in price between an Excel and a Supermatic, especially considering the large amounts of money one saves making their own cigarettes. So accepting all of the above as fact, we are here to tell you that the new Excel is absolutely incredible in its performance. The original model was somewhat sticky and inconsistent in its ability to completely fill tubes, all of which we could overlook because it did have the two distinct advantages of price and size. It is quite a bit smaller than the Premier and wholesales for about half as much. It also has rounded plastic corners and can be thrown around a bit more in luggage trunks or backpacks without damaging it or the other contents of the container.
We received, as mentioned, three Excels. Two were the original red color and one was the new and quite beautiful Platinum Edition which is shown in all of its silver metallic splendor above left. These new machines work every bit as well as the original Supermatic and believe me when I tell you we tried every way in the world to screw them up. We used damp tobacco, too dry tobacco, too much tobacco and anything else we could think of and still this little machine hung in there and made perfect cigarettes. Hundreds of perfect cigarettes. We have still not recovered from our initial shock of how good this machine is. We took it on a week long trip to San Francisco and used it extensively in addition to letting every Bozo we met along the way use it hoping they would find some creative way to foil its flawless performance. To no avail. This machine is pure dynamite.
Now lets talk numbers for a moment. By the way, there are quite a few new Excels out there, as we speak, in the original red color with a label on the box that says NEW! IMPROVED!. These are every bit as good as the newer silver ones, perhaps not as stylish, but they are the real deal. But back to the numbers. The new Excel should wholesale in the range of $16 and the new Premier Supermatic in the range of $29-38. These numbers are somewhat flexible and may or may not reflect their true anticipated street price of $20-$30 for the Excel and $40-$60 for the Premier. The new champagne colored Supermatic II should arrive priced somewhere in between the other two. The point is while the Premier top of the line is unexcelled at what it does, having such a high quality, less expensive alternative that really works could mean the difference for those on marginal budgets to get into the MYO world with the quality injector needed to sustain them long enough to become a committed user of this method. We cannot over-emphasize how good the new Excel is. Personally, we will always keep one of each machine (The Premier and Excel) using the Premier at home and the Excel on the road. CTC deserves a lot of credit for taking the time (and expense) to upgrade their line of machines when they could easily have rested on past laurels and still found little competition in the injector market. There is simply no reason to any longer put off getting started making your own smokes. If you smoke even moderate amounts of packaged cigarettes, these machines will pay for themselves within a very few weeks. And, if time is the issue, these guys will crank out a pack faster than you can get to and from the packaged cigarette store.
Last time we also reviewed the new Maiker 100mm hand held injector. Along with an article last time in our Filter Tubes section, we explored the capabilities and shortcomings of this new innovative product. A few things changed by the time we arrived at the ITE (International Tobacco Expo) - only a few days after we published the last issue - that we feel worthy of note. Although we applauded the high quality construction that was apparent in this new hand-held, we did feel it imperative of mention that the 100mm tubes Maiker designed for this machine were smaller in diameter than all other makes of injectors and hence could not be used by the other machines. The minute I entered the Expo's ballroom, the first thing I did was grab a handful of Maiker 100mm tubes and took them to the Supermatic booth. To my surprise, they worked perfectly on the New Supermatic which by the way filled them completely, a shortcoming that Maiker has still not addressed. We still have reservations about the quality of the Philippine made tubes even though they are now of standard diameter. However, in our experimental store that you have been reading about throughout this issue, we have found the Maiker injector to be the easiest, most trouble-free and longest performing hand-held we have ever seen. It still does not fill the 100mm tubes completely but it is dynamite with king-size tubes. It simply seems to be unbreakable and is so smooth in its performance that little stress appears to be put on the tiny components that make up all hand-held type injectors. The only other one we have seen that is even close is Republic's Top injector and, of course, the larger (with base and tube storage compartment), Gizeh Gold Tip Producter. It is difficult to explain why the Maiker and the Top seems to perform so well, but much may have to do with the number of serrations in the spoon (the probe that actually shoves the tobacco into the tube) and perhaps more likely the fact that all three including the Gizeh Producter seem to be made of a harder, slicker plastic which resists the build-up of residue from damper tobaccos.

None of these are anywhere near as efficient as any of the new Supermatic line, but if space is critical (backpacking, etc.) or cost ($8-$16 retail for these machines) is a big factor (and we meet people daily who really do need the lower price to get started in MYO), these machines will serve respectably well during the time it takes to save enough from the MYO method to later afford a more robust production machine.
As a last note, all of the above is written with a huge amount of gratitude in mind that is daily expressed by our customers, our readers, as well as we at RYO Magazine personally, for the efforts of those manufacturers in the MYO industry who continue to provide significantly improved and evolutionary products to help make the case for MYO. The possibility that one's first experience with making their own cigarettes will be a negative one, is quickly dwindling. the ed.