Last time we talked about cheap (inexpensive) tobaccos, ones that go typically for less than $20/lb. It is important to remember that, even if you pay double that or $40/lb for tobacco, your cost for a pack of RYO cigarettes is raised to only $2.00 per pack which is still considerably less than you will find anywhere in the US for packaged "Name Brands." It is further important to remind our readers of the significant difference in tobacco quality with a freshly rolled RYO smoke, not to mention the fact the RYO cigarettes burn 2-4 times longer than the commercial brands. Using the formula below, that we reproduce from the last issue, cans of six or seven ounces of the tobacco we look at this time run in the range of $10-15 retail. We will use the pricing we find locally for the comparison, but taking the worst case scenario into our formula - which would be 6 oz for $15, we find the per pound price to be only about $40.
1 pound = 454 grams 1 cigarette = 1 gram of tobacco so $40 in tobacco for 454 cigarettes = $.088/cigarette tobacco cost.

Add to that the tube price based on $3.00 per box of 200 (which is pretty high if you look around) of $.015 per tube you arrive at the following:

Tobacco @ $.088/cigarette + $.015 per tube = $.103/cigarette x 20 = $2.06/pack or $20.60/carton
Now as we said, this is truly a worst case scenario but even at $21/carton considering the facts above that pertain to RYO cigarettes, one finds the case for rolling/making your own still quite compelling. The fact is tubes for $2.00 per carton of 200 are quite common and much of the tobacco we will review below is far less than $15/6oz. can. With this is mind, we begin a look at some of the very finest tobacco on the market today, products that are readily available both online and at most smoke shops. We note that we have limited this selection to those tobaccos that are available in cans, though many of the group are also available in pouches or bags. Likewise, tobaccos like Republic's Drum and Zig-Zags's Gold Standard Halfzware are excluded from this review because they are not yet available in cans. Check our Archives Section (Back Issues) for reviews we have written on Drum and many other fine tobaccos.
Bali Shag is beginning to make its way into the general merchandise stores, mostly in 40 gram pouches and mostly in the blue packaged halfzware version.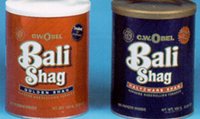 Cans are available at nearly all full service tobacco outlets, both local and online. We reviewed the Bali Blue in the Great Drum Debate issue (July/September in the Back Issues section). This time we will focus on the Red packaged Golden Shag variety which is becoming one of the most popular tobaccos in the world. This stuff is great and there really is nothing else quite like it on the market. It is a long, fine-cut shag that works really well in both injectors and rollers and has a mild, truly premium taste as would be expected from a Peter Stokkebye product. In blind tests that we do frequently among smokers, we find this one really stands out as a favorite. It is always in the top one or two picks of all sampled by our consenting adult human lab rat smoking enthusiasts. While Stokkebye makes so many outstanding blends that, at times, it is hard to pick a favorite, this one enjoys the benefit of potentially being widely available given the status of the Blue can version. It is somewhat reminiscent of Stokkebye's Danish Export, a premium tobacco you will only find in tobacco shops. It however, still retains a character of its own. Not too European in nature, it pleases both the Marlboro/Winston crowd as well as the harder to please Euro-style tobacco aficionado. We're told by 3 Castles devotees that it is the closest thing they have yet to find to that now unavailable brand.
Samson Halfzware Shag is advertised as the most popular handrolling tobacco in the world. We somehow missed it in our Great Drum Debate review (July/September Back Issues, again) and are indeed less for the experience. We had of course heard of it, but had difficulty getting it at the

time of the review. So belatedly, let us state for the record that this stuff is VERY much like original Drum but with less perfume and a great deal more character. As a matter of fact, I have found it to be the very best tobacco to blend with my beloved Turkish variety in about a 50-50 combo. And I am not alone. When blind tested recently, the combo of this and Turkish blew everyone's mind and I am constantly pestered by members of our test group to make this blend for them. Though selling tobacco or blending it for resale is not the business we are in (yet?), it is comforting to note that Samson's presence is increasingly seen in tobacco shops in the US, and we predict it will have the same success here as it does in Europe once folks find it. We cannot over-emphasize how good this stuff is and Lane, Ltd., who is the importer/manufacturer of this (and many other fine tobaccos including the Turkish I speak of frequently), assure us their intentions are to make this treasure available to all who seek it. If you think you might like Dutch style dark halfzware tobacco, you simply must try this one. Like the Bali product, this one also comes in a Golden Shag version (though in a gold/yellow pouch only - no can at this time) and this lighter version is very good. I have to spend more time with the Golden version before I can fathom its exact character but it is safe to say, that while different from Bali Red, it is quite pleasant and perhaps even a bit milder though it seems to lack some of the sophistication of the Bali. As I said, I spend quite a bit of time with a tobacco before I write a review on it as my tastes and moods change daily. But as an initial opinion, I suspect the Gold Samson version will satisfy most all who try it, especially the 3 Castles crowd. More on this new one next time.
Zig-Zag's Gold Standard Halfzware is one of my favorite non-Turkish tobaccos for several reasons. One, it is easy to find, even in Safeway or Rite-Aid. Two, as I am not a total fan of dark Dutch-style halfzwares for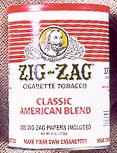 everyday smoking, the fact that the Gold Standard is very mild in its Dutch character allows me to enjoy it more frequently than the more distinctively European blends. Zig-Zag's American Blend reviewed here is in a different category altogether from their Halfzware. It is a typically American Blend style of tobacco which means it has the taste reminiscent of American cigarettes or at least how they used to taste. For those who are just making the transition from packaged brand-name American smokes to roll your own, this may be your very best bet. It lacks the sophistication of the European blends, as does a Marlboro, but is extreme in its quality advantage over the tobaccos used in packaged cigarettes today. As with most roll your own products, this tobacco has no additives other than flavorings and is consistently mild and generous in its approach to the palette with just that little bit of bite you feel in your throat and lungs that most American brand smokers have come to expect. (By way of comparative example, most people cannot feel the presence of Turkish tobacco in their lungs or throat at all and enjoy the flavor only on exhale. And most European Dutch-style tobaccos, while giving you a somewhat stronger lung and throat sensation, are still comparatively mild on intake but tend to make the unaccustomed a bit dizzy after several smokes.) You will see this one, its light-version cousin, and a menthol version in kit form, in many general merchandise stores and the RYO sections of Cigarettes Cheaper type outlet's. In pouch form, it is packaged to compete with TOP and Bugler, coming in .75 ounce packages rather than the typical European style 40 gram (1.41 ounce) soft packs. Nearly everyone who tried this blend in our last testing and, who was still predominantly a packaged cigarette smoker, chose this as one of their favorites. It reminded them of the brands they were used to. It is priced right up there with the more expensive European cans of tobacco so don't expect it to compete with the cheapies like Sixty-One, Midnite Special, Old Hillside, or Stokers. But neither does it taste like those cheaper tobaccos. This is very well made stuff and for those who like that classic American taste, the extra money will be well spent.
Saving my personal favorite (for several reasons) for last brings us to McClintock. If I had to choose just one tobacco to inject into a filtered tube whilst marooned on a rock somewhere, it would be

McClintock. I mentioned several reasons and here they are. First, it is very low priced, nearly as low as Sixty-One and most of the other "bargain" tobaccos. It is also very sophisticated tobacco with many subtle, yet extremely pleasant after-tastes. It injects like a dream, is high in moisture content so it does not dry out easily, and it is mild. Everyone, without exception, who has tried this tobacco in my presence has raved about it for one reason or another and when they found out the price, they were nearly unanimous in their agreement that they would always have some of this stuff around. It is neutral enough for blending yet has plenty of character as a stand-alone. It has none of the bite that most pure Virginia tobaccos have and is dark and delicious. What more can be said you may wonder? Well, as usual just

when I find the "perfect tobacco" (defined as one that doesn't require blending to fully enjoy at any and all times and one that I can always afford), they've gone and changed it. Peter Stokkebye (again!!), the incredible master blender of a significant number of the world's great tobaccos, decided that the green can confused people into thinking this was a menthol blend (understandable I suppose). So Stokkebye has changed the can color to the yellow/gold can shown at right. Now aesthetics aside, which I can overlook easily upon trying a new can of the stuff, I find the color of the tobacco inside has changed as well. It is several shades lighter, more of a golden Virginia tint than the original dark brown treasure. Not only that but the taste is different, somewhat (slightly) more harsh, like most Golden Virginia blends, and it seems to lack those subtle but important after tastes. Now I am admittedly picky and my first reaction has mellowed to the point that I am now enjoying this tobacco NEARLY as much as the original. Nonetheless, it is different. In all fairness, others who have tried it under my watchful gaze found less differences and in some cases liked it even better than the original. But fairness aside, (I am the editor of this thing after all) my concern remained.
I called Stokkebye (the company) to express my concern (to bitch if truth be told) and found out that there is another version of the new McClintock in a RED can that supposedly is identical to the original. It has been designated as their full-flavored blend. They are sending it post-haste, and as I have not yet received it, I can't honestly state its nature. However, considering the company's reputation for absolute excellence and reliability in every one of their products I have seen, I have little doubt that they will come through with a winner in RED.
UPDATE: The Red Version has arrived and is not like the original. We will look at both of the new McClintocks in detail in our next issue (April 1) as well as discuss the status of what green there is left in the distribution chain. Let me just say here that, as I have now smoked more of the new McClintock Golden (yellow pouch/can) Virginian, I am increasingly impressed. This is VERY good tobacco, light and tasty and very consistent. It is much more like other top-selling Canadian-style blends than the original and now when I compare the two, I find this new kid on the block every bit as satisfying though distinctively different. The Red is a stronger blend than the Yellow with a bit more fruity aroma (like apples) and less sweet golden Virginia component. It is available in pouches (1.25 oz) like the yellow and in large cans, whose size is reminiscent of Stokkebye's connoisseur blends (Danish Export, and Amsterdam and Norwegian shags), though even larger at 14 ounces. The Red is a bit strong (again not harsh at all - just heady) for my rather sensitive taste, but when tested among traditional American cigarette smokers, it was an instant hit. More on that very telling phenomenon also in the next issue. Either way though, Red of Yellow, Stokkebye has managed to replace a classic with two blends I believe not only will be more universally accepted by those new to RYO, but with a yellow packaged (pouch and 7 oz can) blend that is now one of my personal favorites at any price. Peter Stokkebye International continues to amaze.
As to the gold Samson referred to above, it has proven to be another Lane, Ltd. winner. It is different than the Bali Golden Shag in flavor but has a distinct quality that translates into a large following to come. It is truly getting to the point where these lighter (both colored and flavored) European blends like Bali Red and the sensational new Bali White, Golden McClintock, ZigZag's Gold Standard Halfzware and, of course, the Gold Samson, have little about them to criticize. If you like one of them, you will probably like all of them and the prospect of blending a little of each together, for an even more versatile mix, is really exciting. The possibilities are fast becoming endless.
Now I don't know why any company would change a good thing but it seems pretty common in our culture. Software for instance. Just as they finally re-patched Windows 95 enough to get it to work, they bring out 98 whose first version was a pain in the ass. Now that 98 appears to be stable, here comes 2000. I liked the old Alpha Romeo's (the 70s version not the new ones) and the original Mustang, and T-bird, and Corvette. A 356 Porsche still makes me tingle as does a wood baseball bat. My 72 VW Bus is still superior as a babe mobile to my much newer 2 door, 5 speed, red, 4WD Explorer Sport. I could actually reach in and work inside the engine compartment of my 88 Caravan but I can't slip a straw inside the engine compartment of a new one. I could go on but you get the point. Again as tated above, as soon as I have a chance to live with the new red (full flavor) McClintock, I will update this article and also include my final views on the Gold Samson as well. *See Above

Until then remember, that no matter what you read in these pages about tobacco, you owe it to yourself to try each blend yourself. Everyone has different tastes and no one opinion is right or wrong. As long as you enjoy the flavor and can afford to buy it, for you, the tobacco you choose is the best in the world - whether you smoke one brand or fifteen different brands for variety. After all, that is the specialness of RYO. You can put any kind of tobacco you damn well please in your cigarette - whichever mood may strike. - RYO
---
EDITOR'S NOTE: These reviews are solely for the convenience of people of legal age who already smoke, are trying to cut down on smoking, wish to spend less money on their smoking, want to roll their own cigarettes from high quality tobacco, and, in general, wish to have a far more satisfying, and economical smoking experience when compared with smoking pre-manufactured cigarettes. We, in no way, encourage people to smoke. Further, we prescribe to a sane, more logical approach to smoking that involves common sense as to quantity coupled with a strong desire to manage the habit until it becomes an occasional, freely chosen, diversion, that can be fully enjoyed with minimal health risks. Finally, we strongly encourage those who do smoke to take it outdoors, or to appropriate environments where tobacco can be enjoyed away from those who do not smoke, most especially children. We do not sell tobacco or related products from this site; We distribute information about our perceptions of the quality of what is available and where it can be obtained. If you are under 18, it is illegal to buy tobacco and you should immediately exit this site. If you do not smoke, it would seem illogical to start.