The major problem with reviewing rolling papers is that while the packaging varies greatly and in many cases is an art form unto itself, the papers inside this wonderful packaging are often very similar, if not identical. Characteristics such as thickness, color, perforations, and the like vary to some degree as do the preferences of individual users of the papers. Some like them thick and easier to roll, while some like them very sheer in order to avoid any paper taste added to their smoke. Papers are rarely made from trees anymore, most are rice, hemp or combinations of other natural fibers that lend themselves well to such processes. Flax, which is a selectively processed by-product of cotton, is becoming more popular as it creates, in the paper blend, a silkiness and smoothness that makes rolling a pleasure while imparting little or no unwanted additional taste to the smoke. For the most part, many paper manufacturers do not mention the fact that they use Flax. Zig-Zag, for example has been using it in its paper mixture for many years. Similarly, in the case of rice paper, many paper manufacturers who use use this ingredient don't say much about it. The Riz in Rizla, is the French term for rice.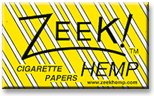 Hemp is another story. We have yet to find a hemp paper that doesn't specify HEMP emblazoned somewhere on the packaging. So with this little bit of trivia in mind, let's first take a look at some papers this time that are definitely HEMP. Zeek papers appear to be an independent paper making company. They have their own website and there is no mention of a parent manufacturing company, although in many cases today, the papers of many are made by only a few companies. We have not been able to get their website to come up in quite a while. We got our samples from HBI (www.herbalbar.com) and found the papers to be of high quality although a bit sheer for our tastes and a bit small and therefore less forgiving when handrolling. They work great in the rolling machines and impart no unwanted flavors to the smoke. We are told that they will soon be widely available as HBI is promoting them rather strongly.

While we are on the subject of paper taste, we have noted here before that the taste of a paper is usually better the less there is of it. Reminded of some of the colored papers one could find in the 70s and some that still persist today, I would only say that they are suitable only for substances other than tobacco. Certain herbals and other "substances" have such a pungent aroma or require only a few puffs to achieve the desired "effect" that a bad tasting paper may go unnoticed. The camouflage papers at right are a good example of this thinking. They, I suppose, look cool, especially for the Ted Nugent School of Survivalist whackos, but you can definitely taste the dyes in the paper and they detract significantly from the taste of good tobacco. They are well made and for other smoking materials are probably going to be quite popular. The point is, if you are looking for a good tobacco paper, pick the whitest, purest paper you can find, made of flax, rice or hemp, no decorations, and only those flavors you wish to add.

In that way it will be the tobacco that you taste, not the dye.
If additional flavor to your tobacco smoke is what you want, their are a number of flavored papers out there. One of the nicest is the Cool Jays mint paper. It has more of a spearmint taste than most menthol paper. It is sweet and delicious. There are also many flavors of papers available including the whole spectrum of fruity flavors, chocolate, vanilla and the like. Be warned that dark papers, like the chocolate, often have additional dyes in them to achieve the dark color and can be overpowering in distracting from the taste of your fine tobacco.

We have reviewed the Brownies and Golden Wrap tobacco papers before but it bears repeating that while these 100 mm papers are becoming very popular and are very well made, they tend to be expensive and more importantly, because they are actually made of tobacco by-products, they will increase the strength of your smoke significantly. In fact, they take a rather mellow tobacco like McClintock and create nearly a cigarillo flavor, not quite cigar-like in strength but certainly more powerful

than the tobacco inside would indicate. I happen to like them because they look cool and make for a nice long-lasting smoke that need not be inhaled to be enjoyed, but they do mask and intensify the actual flavor of the tobacco rolled inside. When used with a filter, they tend to be Sherman-like and in most cases, if you are using good quality RYO tobacco, the final product will exceed the Sherman in the quality of the overall flavor. The finished product will be stronger however, and tend to give one a pretty good buzz. We're told that many people like that!

The Sativo brand of hemp papers, also provided by HBI, are really nice papers that tend to be very sheer. If you like very sheer papers and can find these, we would concur with your decision to use them. They add no flavor whatsoever to the tobacco smoke, but

because of their sheerness, they tend to sound crunchy when you are rolling them. They are wonderful additions to flavorful tobaccos like Samson and Gaulouises halfzwares and the only thing I had trouble with is that they are very small papers. Great for machines but not for my hand-rolling abilities. The two versions shown appear to be identical except for length and are well gummed so the hold together nicely. Remember that hand-rolling is an art form that takes practice and that because of the varying lengths of papers out there, you are probably better off when using a machine to get a wide one (like Rizla's 110mm roller) that can roll any length of paper. That way you won't have to be quite so careful when selecting paper width and the variety of brands and designs of papers you can use will be much greater.
See ya next time - RYO