Coming soon to a location very near you, state specific tobacco taxes on mail order tobacco?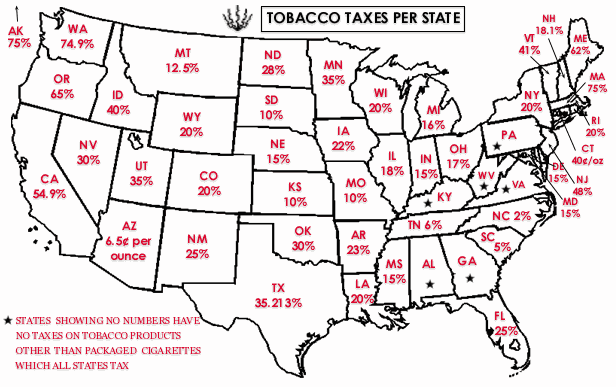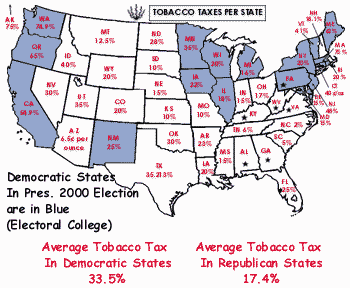 There is a lot more to come in the next issue, but think about the above for awhile,
especially in the context of political geography, as well as geographical perimeter topology.
Do you see any patterns? Let us know what you think.
We will complete this editorial in the upcoming April/June 2nd Quarter issue.
By the way I am a Democrat and voted such:
I found neither major candidate impressive, to say the least,
NOR the parties they somehow represent.
Nader tends to be a raving litigation addict with a disturbingly unclear view of the world we all actually inhabit.
The quality of the mechanics of the election process was an embarassment for 21st centruy technology.
Did I forget Buchanan - yes, I did!
A good and prosperous 2001 in spite of all - the ed.
We repeat some interesting links so that you can keep abreast of vital issues that affect 50 million voting age citizens in the US who happen to smoke.
---
1. http://www.smokersalliance.org - The National Smokers Alliance
2. http://www.forces.org - FORCES - A national smoker's rights organization
3. http://www.smokers.org - The American Smoker's Alliance
4. http://www.fujipub.com/fot - Friends of Tobacco - A Tobacco and Smoking information clearing house
5. http://www.junkscience.com - A highly entertaining site exposing fraudulent and expensive scientific extrapolations.
6. http://thomas.loc.gov - Current, past, and pending legislative actions, bills - a huge resource organized by subject.
7. http://tobaccolovers.com - A new and growing resource for tobacco related, history, techniques, and links.
8. http://www.smokerscorner.al.ru - A new Eastern European site with a variety of informational sections & services
9. http://www.cato.org/pubs/pas/pa-366es.html - a "White" Paper produced by the CATO Institute covering the Shelby Amendment which requires that all aspects of research whose findings lead to legislation being enacted be made part of the public record available to all. Fascinating reading.
---


Click here to view timely correspondence from our readers
And here to submit your comments
---