Let us start this episodic editorial by saying that the last thing in the world I had ever contemplated anytime during my professional life was opening up a retail store. Dealing with the public is an art form that, while I spent many years playing music to audiences for a living, I find I do not enjoy it for extended periods. On stage there is a barrier (if only imaginary) between yourself and the audience that gives one comfort and, as a performer with a reasonable amount of talent, you have quite a bit of control over audience reaction. As a shopkeeper, however, you are vulnerable to the barbs and pokes of anyone having a bad day and still must service them satisfactorily or you will not stay in business long. On stage, hecklers were handled a number of ways but always with a professional distance (except on the few occasions I, having had more than a little Cuervo Gold, would leave the stage in pursuit of resolution that a more sober person would not have attempted). Nonetheless RYO Magazine, last December, decided it was time to find out what retailers really face each day. It has been an interesting 6 months to say the least.

Now it has been the oft-stated aim of this magazine since its inception to provide comprehensive information to several groups of people in various ways associated with the tobacco business, including consumers, retailers, distributors, and manufacturers. This article will focus mainly on our foray into the cardiac wild of the world of tobacco retail. It is no secret that tobacco retailers, in the current tobacco environment, have an even tougher job than that which faces all other retail establishments with the additional burdens of punitive taxation and regulation not to mention escalating prices and scrutiny, both public and private. Now we have little sympathy for the discount packaged cigarette seller in general as we find their products less than user-unfriendly, uni-dimensional and focused more on creative advertising as well as creative chemistry rather than tobacco quality. There have been improvements and some laudably honest attempts to improve the quality of some manufactured cigarettes (Some Winston, Camel and American Spirit come to mind but we have yet to find ANY manufactured cigarette, even including Sherman, Dunhill and other boutique cigarettes - with one exception which we will discuss later in this article - that compares in taste to a freshly injected cigarette made with good quality tobacco and tube). But progress is apparently at hand as, happily, we are finding many of these "cheap" cigarette outlets now joining the growing ranks of those who recognize the logic of making one's own cigarettes and are providing significant shelf space and even private label product (see this issue's Tobacco section) to the prospect of RYO/MYO. We certainly look forward to the time when the marketing and chemical engineer driven cigarette industry in the US has a significantly smaller pie to play with.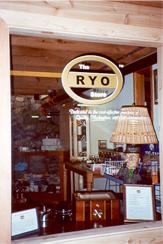 Taking this proposition to the next logical level, we at RYO envisioned a retail tobacco environment that emphasized, in the largest possible way, the roll your own or make your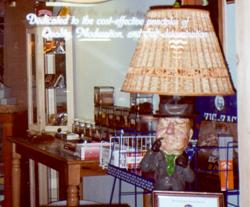 own experience. This included an area set aside with a rolling table (at right) of sufficient size to hold sample jars of every good quality rolling tobacco we have found in the US as well as every rolling paper, roller, injector and tube we have found worthy of writing about. We called it simply, The RYO Store, secured the domain name and applied for a trademark. Let's clarify right here that we have no intention of taking this store online or in anyway competing with our advertisers or any of the other hard working tobacco retailers nationwide who have been forced to begin selling to the wider online client base to make up for the shortfall caused by prohibitive and unrealistic state tax structures. We have created a local operation here in Ashland, Oregon, buying our tobacco products only from Oregon State licensed distributors and subsequently paying the full 65% state tax imposed here on tobacco goods. There are only two other tobacco stores in this rather culturally oriented home of the renowned Shakespearean Festival and Southern Oregon University, one that carries almost no RYO and the other which, while primarily a discount cigarette operation, carries a pretty good variety of RYO products. We did not start this venture to make a big business out of it but rather to glean sufficient information about the real street level circumstances that tobacco retailers across the US face and will continue to face daily. We wanted to see how well which of the wide range of RYO products move (sell) of course, but more importantly, primarily how packaged cigarette smokers who have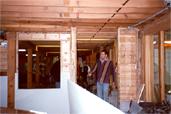 never seen the cigarette injection process react when they first experience the ease with which it is accomplished and the differences in taste the smoker immediately enjoys. After all, there are 50 million of them out there as compared to less than 2 million who currently roll or make their own.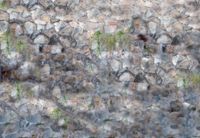 We started construction in late December of 2000 having found a quaint little spot in the basement of a small mall-like complex in downtown Ashland that had been only infrequently occupied by a deli and a small used CD store. At one end of this underground "mall" was a wall entirely appointed with a beautiful rock faced waterfall so we contracted the space and built the store front around this natural humidifier. We spent only about $2000 including building supplies, labor,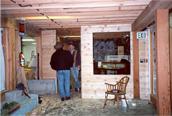 and furnishings, activated a merchant account for credit card sales, stocked the store as mentioned above with the finest in RYO/MYO supplies and started business in early March 2001. Naturally, construction took a little longer than planned as it always seems to, but we faced relatively few other problems. We kept our overhead including rent low, much lower than most tobacco shops as we did not want to invest the kind of resources to make a big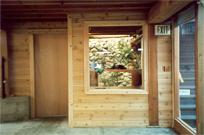 businesses out of this. Remember it is an experiment, not a living, at least that is how it was initially intended. Curiosity began building about the coming presence of a true smoke shop from the very beginnings of construction, that would be staffed by folk who actually had some expertise with the tobacco and ancillary products being sold. Though the mall (The Main Street Market Place) was not a well traveled destination for many, the few who did stumble upon the location were fascinated with the concept. Traffic has dramatically escalated since opening, an occurrence which continues to amaze us and the store's bank account.
Being a college town and, as mentioned before, a rather artistic one at that, many of the residents are young enough NOT to have remembered the days when real smoke shops with tobacco aficionados behind each counter were prevalent throughout the US. Add the fact that the Pacific Northwest makes up a disproportionally large segment of the hand rolling public in this country, and therefore much of the population is somewhat already familiar with a wider range of tobaccos than simply Bugler and Top, our confidence grew daily that this would prove to be an ideal test market arena. Even though the town is mostly committed to non-smoking indoor public environments (which as you must know by now, we support), a fairly large percentage of the people here do smoke cigarettes of one kind or another. Additionally, a few minutes away via the Interstate 5 freeway is the town of Medford, much larger and more typical in its similarity to many suburban-area cities in most of the US. We figured that though Ashlanders who smoke might be, in large part, mostly handrollers, Medford on the other hand likely had a large population of packaged cigarette smokers which would be ideal as a possible MYO base to draw from. Quite simply the best of both possible markets with (RYO and MYO) in a relatively small area. It is interesting to note here that though we have found the suspected demographics to vary somewhat from our initial assumptions (mainly that a lot of Ashlanders smoke packaged cigarettes and many Medfordites roll their own) in general both groups exist in sufficient quantities to make for a very interesting and surprisingly profitable experiment. Also, since we began construction, several new businesses have come into the little mall. A nice little taco stand with really awesome, authentic Mexican cuisine called the Tamale Dog, a really cool Rock Shop - called The Rock Shop (mineral not music), a well stocked new and used CD store (music not investment certificates) that goes by the name of Musichead, a professionally run piercing shop/tattoo parlor - Lowdown Piercing - (ouch! but very popular with the college kids), as well as an artistically accentuated clothing and accessory boutique called Bizarre Bizarre. There are still a couple of vacant spaces which the landlord (who owns several successful restaurants in town) uses to store years of accumulated junk from stuffed fish and dinnerware to golf clubs and massage chairs. It has become quite an interesting place with something for nearly everyone, but it lives at the end of the main part of town and foot traffic is only recently beginning to develop to an extent that people accidentally might find us. Ashland is very much a tourist town during the summer theater season and many businesses barely survive in the off season. It looks however that the diversity available at this little underground haven may just prove to be seasonal-proof.
The first few weeks were fairly slow, but as word spread, a steady customer base began to evolve rather quickly. Because of our low overhead, we were able to provided reasonable pricing even with the high tobacco tax in this state thus making the experiment, for those who wish to try a new way of tobacco usage or experience a wider range of products, quite practical. The real key to the success of a store of this kind is an informed staff and a wide display of products that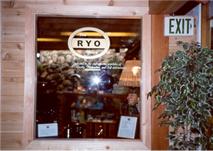 people can easily try out and compare side by side. We have sample jars of each tobacco that customers can make their own cigarettes from as well as all of the accessories necessary to accomplish this. We wanted to see which tubes they preferred, which papers, which tobaccos, which injectors, rollers and the rest. We tried to price everything as equally as possible so that the results were based on quality rather than economy, but obviously a Supermatic is going to cost more than a cheap hand injector. We sell plenty of both and, as we expected, most people who buy the smaller ones (unless they are on a very tight budget and smoke very little) subsequently returned to buy the better machines. Our tobacco prices are extremely uniform though the profit line on them varies somewhat and we sell all of our rolling papers for nearly the same price. Tubes vary only slightly because it was important for us to see if, given the choice, our customers would pay a little more for certain brands of tubes. We sell only top rated stuff - no cheap knockoffs. And nobody comes in and is ignored. We don't wait for them to come to the counter with their choices. We interact immediately with all customers. Like the good old days - huh! Many folks who come in simply to get out of the summer heat or just see our cool waterfall, leave having bought things they did not know existed. And amazingly, there are a whole lot of people who know NOTHING of the existence of the make your own world. We suspect many, in fact, are initially shocked by the term tobacco injection assigning some sinister, invasive method of getting nicotine into their bloodstream.
In overview, it is important to note that we do sell some items for promotional/impulse purposes to cater to a diverse crowd and bring folks into the store who may not be ready for, or even aware of, RYO products. Things like highly rated though value priced cigars (LaFinca Coronas, Montesino Diplomaticos Maduros, El Rey Del Mundo Robustos), Zippo Lighters, Cigarette Cases, Little Cigars in tins, high quality value priced Genuine English Briar Pipes (not glass or anything else that can be confused with head shop paraphernalia other than rolling papers, of course), and certain boutique/designer cigarettes like Nat Sherman's (Naturals, Black & Gold, Classics, and Fantasia's), Dunhills and Export A's, *(which, as alluded to above are, in our not so humble opinion, the best packaged cigarettes on the market today). These kinds of items widen our customer base and aid in generating discussions that ultimately lead to ones involving tobacco in general and, eventually and effortlessly, leading to the make your own cigarette process. If someone comes in to buy a pack of Shaman's, we always provide them with a sample smoke of a really fine tobacco injected into a filtered tube (often accomplished, at first at least, with our assistance) so they can compare MYO to packaged smokes. We charge a nominal price for samples (or the lines would be a mile long with people looking for free smokes) to cover the taxes we pay on every bit of tobacco we buy. The shop is small, less than 400 square feet, but we have a comprehensive variety and stock of products. We try to keep inventory to a minimum as our most often used distributor gets product to us in one day and has nearly all of our highest rated choices. We have copious signage to deter those under 18 and post in a very conspicuous location the following sign:
---
If You Have
Quit Smoking .
Keep it That Way
If You Don't Smoke, It Would Seem Illogical To Start Now!
The RYO Store is dedicated to the principles of Quality, Moderation, and Self-determination. In simple terms this means that we emphasize, to those of legal age who freely choose to smoke, that tobacco should be treated as an occasional treat rather than an addiction. We feel that smoking limited quantities of high quality, additive-free tobacco is preferable to indulging in mass quantities of commercially packaged cigarettes as is the current habit of more than 50 million Americans and over a billion people worldwide. While tobacco is a legal product, we feel it, too often, is abused rather than enjoyed. For centuries, human beings were able to enjoy its pleasures with little of the harm attributed to cigarette smoking today.
It is important to understand that there is no such thing as a "SAFE" cigarette. There is no clear research on dosage, or on the toxicity of components in tobacco smoke as they vary from brand to brand. There has NEVER been any research on the differences in produced toxins between the high quality tobacco we sell or the additive filled packaged brands. One day such research will be honestly conducted and reported. Until then, one must assume that smoking involves a degree of risk.
Having said that, many health care professionals urge their patients to reduce the amount they smoke if they truly do not want to quit completely. We agree with the logic of that advice. We find a great majority of those who roll or inject tobacco to make their own cigarettes invariably smoke less and eventually gain control of their obsession until it evolves into the freely chosen diversion it once was.
---
Now since this piece is meant to be editorial in nature rather than a review of products (we have reviewed every product we sell or stock in the store in these pages over that last couple of years), we feel it unnecessary and perhaps even unfair to dwell too much on what sells best and what lingers on the shelf. After all, this experimental store is dealing with an extremely small demographic base and may not represent the tastes and propensities of the larger smoking public or more importantly, specifically smoking trends in other areas of the US. However, coupling our findings in the store with the large amount of e-mail we receive at the magazine concerning our readers experiences with reviewed products, we nonetheless have a pretty good idea what the public seems to like. Keep in mind that the following breakdowns may not be our personal first-choices in smoking materials but we have learned that as great as the smoking public's taste varies, we often temper our personal feelings to prevent overselling any product based solely on our opinion. We carried this philosophy to the store environment, we think wisely, showing as little bias as possible. Rather, we emphasize the particular characteristics of each product and let the customer try as many as they like, enabling the buyer to subsequently decide for themselves which products they prefer. We also watch carefully for those products that can successfully make up for the very small profit on heavily taxed tobacco items while daily trying to incorporate new such items into our inventory. After all, most smoke shops, especially in high tobacco tax states, make a lot more profit on accessories than on the tobacco itself. Those retailers who also sell tobacco to residents of other than their own states pay no such taxes on tobacco, leaving the consumer with the ultimate obligation to pay the appropriate tariff. In reality, in most states, the means for the consumer to pay these taxes is cumbersome or non-existent with little oversight or enforcement. Consequently, online stores have a distinct pricing advantage so accessories really are the key to profit for the local store. Nonetheless, tobacco is still undoubtedly the draw for a tobacco shop.

Tobacco
In the area our store is located (the town of Ashland to be specific), there is a perception that smoking is looked down upon. Nonetheless, a lot of folks here smoke and the public ash cans and receptacles that line the sidewalks are always full. It is rare indeed to stand in line at any market without at least half of the customers buying at least one pack of cigarettes. Cartons are more often purchased at the larger discount places like Costco in Medford or at the cheap cigarette outlet in town. Cigarettes of one brand or another always seem to be on sale at various drug/general merchandise stores like Rite-Aid and Wal-Mart. And people who at least by appearance seem that they have barely enough money for food or rent always seem to manage to have a pack of smokes on them. This particular observation is common throughout the US in that even the most financially challenged in our society always seem to have the means for a pack of cigarettes. It would therefore seem that for no other reason, making ones own cigarettes would be far more popular than it is and that the majority of those who make their own would be lower on the socio-economic ladder. We have found that NOT to be the case both in the readership of RYO Magazine and in our little retail store. In fact, it is apparent that a majority of those we come in contact with through both mediums choose to make their own smokes far more often because of the control and quality of that which they smoke than simply as a money saving proposition. We think this is a very optimistic sign as to not only the intelligence of the smoking public but as to the eventual wider success of MYO. Even more important, it tells us that marketing MYO product simply as a way to save money may not be a wise course of action. The general cigarette smoking population by-and-large looks at MYO as a solution for people who can't afford "real" cigarettes. This perception is not only patently untrue but debilitating to the overall success of the MYO segment of the market.
So what have we seen so far when customers walk in and experience MYO for the first time? Let's look at some typical encounters which proceed something like the following scenarios. Also included are our observations as to how a retailer might increase their chances of success:
1. In walks a couple who have seen the store, don't have a clue what RYO means and, hence, even with humidors, pipes, and tobacco plainly in sight, are not sure what the RYO Store is. They immediately notice the beautiful waterfall. Our staff, in turn, comments on how it makes for a great natural humidor for the tobacco. Ah . . . a tobacco store. One must remember that most packaged cigarette smokers in the US have never seen the inside of a store solely dedicated to tobacco products. Right off, the potential customer knows we CARE about our tobacco and we take good care of it, thus, tobacco is something special. If they seem not particularly interested in a specific product or seem to be just enjoying the scenery, we do not ask them if they smoke. Instead one of us will go to the rolling table and, very unobtrusively yet with some flair, inject a cigarette for ourselves. It is amazing, as long as staff knows the people are watching (out of curiosity) what we are up to, (its kind of like waiting for the applause or laughter to die down before an actor delivers their next important line) how almost 100% of people in this situation will move over to the table to see what we are doing and their reaction are usually ones of wonder. Now it does not really matter whether these particular people smoke. No doubt some of their friends or family do and one can feel their desire to share the knowledge of what they have seen with the other folks in their life. Most people like to report to others on interesting things they have discovered even if they have no desire themselves for these things. Now if they are cigarette smokers, they are almost always even more amazed. At that point, we ask them if they smoke and if they do, would they like a sample. If so, during the making of the sample we give them some background on the differences in choice, quality, and cost savings of this method of cigarette acquisition. A little education for mainstream cigarette smokers goes a tremendously long way, and it is rare once we get to this stage of the encounter that we have not already created a customer or at least an information pipeline to other customers with whom the visitor is acquainted.
All of the forgoing works best in a relaxed non sales-pressure oriented atmosphere where the visitor is shown something interesting and left to their own ruminations about what they have seen. We NEVER ask them if they would like to buy something. If they are interested, they will ask (even if they themselves don't smoke) how much the various components cost. The point is that the MYO process will sell itself if only it is demonstrated and in a low key manner. Not the screaming hype of an infomercial but instead leaving both sales person and client with some semblance of dignity and commonality.
2. The second scenario is more of what most tobacco shops hope is the typical customer encounter but with MYO it may be rare at least for a while. In walks a cigarette smoker looking for some brand of cigarettes. We tell them straight out that we sell only a few of the better brands of packaged cigarettes (Sherman's, etc) mentioned above, but that we are really an enterprise dedicated to the MYO process. If they are interested in these 'boutique"smokes we sell them to the customer but before they leave we offer them a sample of an alternative. In our store we usually start with a cigarette injected with a blend of fairly "American" like flavored tobacco such as Turkish Special and McClintock, Samson Yellow, Bali Red, to mention a few. Serving the dual purpose of getting the customer to try some really good tobacco, and having them see the ease with which we created the stick without ANY mention of them actually buying into the MYO process, leaves the customer to freely taste the difference. Most of us have suffered the consequence of a friend overselling the wonders of a particular film or music. It psychologically prepares the recommend to disagree with the rave review and often taints the outcome of their experience. Simply say, give it a try. If you like it, cool, if not, enjoy your Dunhill's. We resist carrying mainstream packaged cigarettes but some retailers feel they must simply to attract enough customers. We feel cross pollination between packaged and MYO is a precarious ledge to walk. However, if the customer is really only looking for a mainstream brand or a (Bonus-Value) low cost manufactured cigarette, tell them the nearest, cheapest place in town they can find them and make them a sample anyway. You will be amazed how often that hard core brand smoker will show up again for another sample. In most cases, they can't believe how good it tasted and want another just to see if they were just lulled into liking it because the seller was so unpretentious in their approach. Once they come back, the whole story of MYO will be eagerly listened to and you will have yet another customer with friends to share the discovery. Now a word of warning about American packaged cigarette smokers. They will almost never like the darker, more robust blends like Bali Blue, Samson Blue, Drum, Gauloises, etc, because they taste far different than what they are used to. It is not your job to convince someone to like a tobacco just because it is better or you like it. Give them something as close to what they are used to as possible. Avoid the really cheap tobaccos that claim to taste like Marlboros and Camels. They do not and in most cases simply taste like "cheap" tobacco. For instance, through our many e-mail correspondences we have found that a huge number of people like McClintock Red better than McClintock Gold. We do not and the ones who do are often 2 pack a day or more smokers looking for a more powerful tobacco but still having the American style taste. These heavier smokers will do better with a blend of American Spirit and Red Mac, or Zig Zag's American Blends, Roll Rich or Master Roll Regular. We are aware that their are a number of bulk tobaccos out there that are really pretty good but we suggest you try them in comparison with the ones we mention so you can categorize them accurately as to taste. Also it wouldn't hurt to buy a pack of Camels Turkish Gold or Marlboro or Camel Light or Winston's new supposedly higher grade leaf cigarettes and try these for yourself as well so you know what the competition is like. Also make sure you have smoked some of the boutique cigarettes so you can give your honest opinion. Remember, your opinion is valuable as a comparison not as a definitive set of data for the consumer to unequivocally accept. Know your product. If you don't smoke at all, you better do a lot of reading and a lot of opinion gathering from your customers, as their opinion is no doubt more important to your bottom line than your own. Frankly, I find it difficult to trust the opinion of anyone who does not use any of their own products, but I can overlook that fact to some degree if they show a reasonably complete knowledge of what they are selling.
3. This is the toughest of the three situations (there are many others but space limits our going through every possible scenario). In walks a customer who does know tobacco. They are hand rollers who love Drum, Three Castles, or Balkan Sobranie, etc., but can't find it any more. They know cigars and are pretty wise to pipe tobacco and pipes as well. Remember very few people, even connoisseurs can tell the difference in a blind test from Drum, Bali Blue, Samson, or Gauloises Halfzware unless they know at least what one of them is and can compare the others to it. Handrollers like these darker halfzwares and very often do not like the milder more American flavors. Often they take such pride in their ability to hand roll that the thought of smoking a filtered cigarette seems weak. In a majority of cases, they will become loyal customers if you allow them to try the different tobaccos, handrolling themselves a stick of each. Nonetheless, it is a fact that filtered smokes in many ways are much more appealing to all smokers at one time or another and if truth be known nearly all handrollers at one time or another buy or beg packaged cigarettes for convenience. With this probability in mind, after they have rolled a few themselves, inject them a blend (you blend it) of an American style tobacco with about 25% of a halfzware and inject it into a tube. Most will gladly take the sample and even if they end up breaking off the filter you will be amazed how many will absolutely love the resulting flavor. One reason is that halfzwares are often too strong to enjoy in a full diameter stick like most MYO tubes and walking around dizzily after smoking tobacco is not the most pleasant of experiences. The flavor of the halfzware is outstanding and the major American component will mellow the smoke such that the customer just may find interest in the new method. Even if they don't, they will appreciated the experiment, one which they will never get at Safeway or even most other smoke shops. We find about 30% of this group eventually buy injectors with not a single one being too proud to pass up the opportunity to try something new. Also it is important to note that in many cases injection tubes are less expensive than buying papers and handrolling tobacco (except of course for the initial investment in the injector), as tubes are usually a LOT cheaper than papers by count.

Injectors

Simply, if you don't have Supermatics, Excels and Gizeh Gold Tip Producters in stock you will not sell the MYO method to sufficient numbers of the packaged cigarette smoker to emphasize MYO as your main product. Of course, there are many other injectors some of which work pretty well but we have found that the preceding are real the ultimate deal makers.

Tubes and Papers

Rolling papers are made from tree products (a few), but most from rice, flax and hemp or combinations thereof. They will sell for many reasons like name, sheerness, or thickness, or size, or decorations on the booklet. Frequently, however, they will sell as to how many papers are contained per booklets of the same price. Gizeh consistently has more papers per booklet than any other brand. Chills, Hempire, and Gizeh make fine hemp papers. French lights, Ventura Whites are very silky and popular. Zig-Zag is the best known among most rollers. Rizla are often the best price per booklet (not necessarily per paper) wholesale. Pretty and unusual packages sell mostly to the crossover crowd of herbal smokers. Some folks really can roll a cigarette with a separate filter they add to the roll themselves so carry good quality filters like Gizeh, Rayo, and Carnuma. Remind them however that such methods are more expensive than tubes. Herbal Bar (HBI) www.herbalbar.com is a great wholesale resource for almost every rolling paper on the planet.Send for their catalogue.

Many tubes of various brand names are made by CTC of Canada. Their personal line is Escort and Premier. European manufactured brands like Gizeh are very popular though a bit more costly and Zig-Zags and Rizla's are often among the priciest. They are all good. Try them all and any others not mentioned here but try them yourself and avoid ones that are too often damaged or crinkled, and especially avoid those that taste like burning newspaper. Tubes MUST be neutral in taste. Men prefer brown tips. Women prefer white tips (in general of course). Gizeh's charcoal tips, while expensive, provide the lightest smoke tested to date. CTC's Premier Menthol tubes hold their mentholated character far longer than any other brand. It is important to note that the percentage of menthol MYO smokers is really small, much smaller than the percentage of menthol packaged cigarette smokers. The reason is most likely that good quality menthol tobacco is harder to find and that even a good blend of tobacco, once mentholated, looses much or all of its distinctive character. The point is that a menthol tube allows the smoker to choose very high grade, distinctively flavored tobaccos and get the menthol effect without losing these distinctive characteristics. Finally, always inspect a box of tubes for damage by opening it and showing the contents to the customer before you take their money or let them leave your store.

Pipes and Accessories

Local distributors and manufacturers close to you because of quick delivery can be of great convenience. However, it has been our experience, since taxes are not an issue with accessories, that the larger firms like HJ Bailey (hjbailey.com) and Phillips and King (pkcigar.com) often have tremendous savings with monthly specials on pipes and accessories. Though they sell cigars and tobacco also, they only sell these items to those with distributors licenses. Check both out.

Cigarette cases and tobacco jars are very hot items once a client is established as a MYO user. Standard cases often are too narrow for the wider roll your own but inexpensive cases like the Strong Box and the boxes made for various companies by Precision Manufacturing are ideal.The Strong Box needs to be modified to prevent it from closing too far and bending the smokes. Easily accomplished by gluing Velcro strips on the sides so it will shut down only so far (this case was intended initially to use with soft packs of cigarettes but work great once the simple adjustment is made). The best tobacco jars we have found are actually the ceramic kitchen top canisters that you usually find in department stores in sets of 3 or 4 sizes. They have a hollow lid which will hold a sponge. When the sponge is moistened with just a few drops of water (add vanilla or other flavoring if desired) they keep the tobacco in the jar perfectly moist. Remember, only a few drops of water goes a long way. Clean sponges once a week in hot water, (no soap) to prevent mold. Fruit or vegetable products like apples and lettuce, though frequently used, are mold maniacs, so avoid. By the way, never refrigerate any tobacco product. It will dry it out nearly as fast as the open air.
A few things to remember in recap.
Most Americans like filtered manufactured looking smokes.
The handrolling segment is fairly small, but that small group tends to know a lot more about tobacco in general than the typical cigarette smoker who buys their sticks at Safeway.
Cigar and pipe smokers are generally the only ones who have ever been to a true smoke shop so have things for them on hand, especially highly rated but value priced cigars and pipe tobaccos as well as pipes and other such accessories. Pipes are fun and most pipe smokers have several which the smoker uses interchangeably. Good pipes need not be prohibitively expensive. Do the research.
Allow your customers to sell themselves on the idea of MYO. Your opinions are valuable only as a balance to what the customer experiences. Concentrate more on the various factual manufacturer-intended differences between tobaccos and less on subjective preferences.
Always keep in mind that flavor and control of smoking is of greatest concern to you in your recommendations to your customers. Value their opinion. If they like American Spirit don't knock it even if you find it harsh and tasteless. It is VERY popular. But always follow up with your client by letting them sample something you feel MAY be better as well.
Emphasize Quality, Self Determination, and Moderation before economy.
Resist the temptation to sell a limited number of tobacco alternatives especially the "cheap" ones as you most likely will get only one chance at failure to please, but many chances to incrementally satisfy a prospective customer with better and better tobacco.
Nearly 85% of the tobacco shops that existed in 1990 are gone. You can look at this as a tragedy but you might also think of it as a great opportunity. It will be tough but it is doable. Tobacco is a legal product. Mixing dangerous chemicals and promoting or selling to minors could change that.
Think long and hard as the temptation to combine tobacco products with those more suited to head-shop environs presents itself.
Pay your state tobacco taxes either directly or by purchasing stock from state licensed distributors. Avoid the temptation to break the law to make a little more profit. It will hurt everyone in this business, but don't hesitate to discuss the tax situation with your customers. They are voters and if enough of them get active, ANY law can be changed.
Finally, seriously consider the legitimacy of creating a larger customer base rather than higher profits with fewer customers. The industry will increase market share and manufacturing costs will be reduced as volume increases.
We hope our experience will provide assistance to current and future tobacco retailers (and manufacturers, distributors, and consumers as well) and, as time goes by, we will share other new ideas as they surface from our ongoing micro-cosmic retail experiment. Please remember that if you are a retailer, you almost certainly already know more about running a retail business than we will ever know, but we do know how people react to tobacco and new ideas, as well as what is available out there. That is our real business expertise and why we write this magazine. Be sure to look for Part II of this editorial (with some new artwork) in a future issue. We will update this section sometime in January of 2002 after further concrete experiences, especially holiday shopping trends, manifest themselves. Repeated below are some interesting links so that you can keep abreast of vital issues that affect 50 million voting age citizens in the US.
---
1. http://www.smokersalliance.org - The National Smokers Alliance
2. http://www.forces.org - FORCES - A national smoker's rights organization
3. http://www.smokers.org - The American Smoker's Alliance
4. http://www.fujipub.com/fot - Friends of Tobacco - A Tobacco and Smoking information clearing house
5. http://www.junkscience.com - A highly entertaining site exposing fraudulent and expensive scientific extrapolations.
6. http://thomas.loc.gov - Current, past, and pending legislative actions, bills - a huge resource organized by subject.
7. http://tobaccolovers.com - A new and growing resource for tobacco related, history, techniques, and links.
8. http://www.smokerscorner.al.ru - A new Eastern European site with a variety of informational sections & services
9. http://www.cato.org/pubs/pas/pa-366es.html - a "White" Paper produced by the CATO Institute covering the Shelby Amendment which requires that all aspects of research whose findings lead to legislation being enacted be made part of the public record available to all. Fascinating reading.
---


Click here to view timely correspondence from our readers
And here to submit your comments
---