The idea of all-in-one-box cigarette making kits goes back quite a ways, to the days of the Laredo Cigarette Kit, circa 1970. See our January issue to read more on this historically unique development. Back then, tubes and injectors were generally unknown and although some manufacturers claim dates of initial manufacture that predates this, I personally never saw or knew of an injector or filtered tube until the Laredo. Cigarette making kits are a good idea as long as the quality of each component in the kit is satisfactory. While Laredo suffered from problems such as tobacco quality, injector weakness in use, and tubes that were not always consistent, the new breed of kits are far better. In general, a kit contains tobacco, an injector, tubes, and a carrying case for the finished smokes. As might be expected with any kit, one need not replace all components the next time around. The injector should be good enough to last for many cartons worth of tobacco and tubes so the kit itself is an item that has limited sales potential beyond its initial purchase. However, there may be no better way to exhibit the convenience and economy of roll your own smoking to the 95% of smokers who still buy packaged brand name cigarettes and this is why the quality of the injector and other components supplied with the kit is so critical. The 3 kits examined in this article were chosen for their component quality and their availability potential. I have yet to see a kit in a grocery or drug store, but I am told that others have seen them. Most likely they will begin appearing shortly as the fiscal possibilities of RYO smoking begins to attract the attention of mainstream retailers. At this time, few of these market venues carry any of the kit components other than tobacco (specifically, injectors and tubes are nearly impossible to find in these stores.) Most online tobacco outlets carry the kits as do most tobacco shops that have an RYO department. In this issue we will take a look at kits from Zig-Zag, TOP, and Long.

Two of the three RYO tobacco brands with the greatest access to grocery and drug store tobacco shelves are ZIG-ZAG and TOP (the third being Bugler and though Bugler makes tubes, injectors and, obviously, tobacco, we have yet to see a kit). Long kits are distributed in the US by CW Obel who has reached the grocery/drug store venue with their outstanding Bali Shag products and may eventually rival the others in the mainstream market place. Given the size of the potential market and their effectiveness as promotional items for first-time customers, it is likely that more companies will begin to market kits. It is important to also note that many tobacco stores, online and brick/mortar, have kits of their own made from components gleaned from various manufacturers. As to pricing, it is difficult to accurately estimate prices on kits as they seem to fluctuate frequently (often as loss leaders) amongst the retail shops we survey for such purposes. However, in most cases, the kits cost significantly less than the individual components would cost separately.

ZIG-ZAG's Kit

The famous maker of rolling papers, Zig-Zag, has in the last year or so, fortified its line of RYO product with some truly outstanding tobacco. See the Great Drum Debate for more on their excellent Gold Standard Halfzware Shag.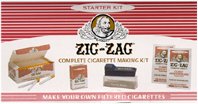 While (sadly) they do not offer this tobacco in kit form, what they do offer is a more traditional American blend, which is still very smokeable. It is actually pretty tasty and reminds one of mainstream flavors like Marlboro or Winston. The tubes (also reviewed previously) are among the very best and the injector is very good as well. Although I still personally prefer the larger injectors like the Supermatic or Excel, one can successfully create

cigarettes with the smaller injectors offered in this and all of the kits reviewed here. Zig-Zag's injector (see photo at right) has an especially sharp edge on its cutting surface and should sever most fine and medium cut tobaccos successfully for the pre-injection process. (For more detail on how these kinds of injectors work see our previous article on the Escort injector). As are most all small injectors, it is made of high impact plastic. Very well constructed, it should last through many cartons of cigarettes so that your next purchase requirement would be only tobacco and tubes. The carrying case is imprinted cardboard. Their small kit contains 100 tubes, twice as many as will be needed to use the tobacco supplied, and their larger kit has 200 tubes and enough tobacco to fill all of the tubes or about a carton of smokes. Both kit sizes come in Regular and Light styles which reflect both tobacco strength and tube filtering differences. There may even be a Menthol kit version, though we have not seen it. More to the point, we have yet to find a product from Zig-Zag that did not meet the highest standards of quality and utility and these kits are no exception.
The TOP Kit
First off, an update on Top tobacco, which has never been one of my favorites, is in order. Many years ago when I first started rolling my own cigarettes, I preferred TOP over Bugler (and still do) and as there was not a lot of choice back then (at least that I knew of at the time), TOP seem to fill the bill. However, never was it a satisfying enough of a smoke to replace packaged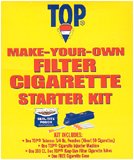 cigarettes like Marlboros and the like. Now I have made similar statements in these pages in the past and have continued to try TOP occasionally. I have always bought TOP in the can, but not long ago I decided to try a pouch instead (as I had found a certain other tobacco to be much better when bought in a smaller quantity package) and to my surprise I found the TOP pretty darn good. I compared the tobacco in the pouch with an old can of TOP I keep in storage and found the new stuff to be darker and far more moist and much easier to inject into a tube. I preface this examination of TOP's kit with the preceding because tobacco taste is a vital ingredient to the success of the kit's most likely intended purpose, that is to convince the packaged cigarette smoker of the advantages of roll your own and I want to make it clear that the newer TOP I tried in the pouch is VERY smokeable notwithstanding my previous opinions. Perhaps it is that the smaller package does a better job in preserving the flavor but whatever the reason, TOP seems much better. So with that in mind I was anxious to try their starter kit. The kit comes packaged in a bright yellow cube containing (2) 3/4 ounce packages of tobacco, an injector, a plastic case,

and 100 tubes of which only 50 or so will be needed to use up the supplied tobacco. The injector (see photo at right) is quite good and successfully fulfills its function in the creation process. The tubes are regular in filter strength, exhibit no papery taste and appear to be consistently well made. Considering price and placement capabilities (which means that this kit may be the least expensive, most readily available you will find) the overall experience is a positive one. Republic Tobacco, the manufacturer, has taken great effort in providing quality products to consumers over the years and their kit has perhaps the greatest chance of being the first to be widely distributed in the grocery/drug store supply chain.
The Long Cigarette Starter Kit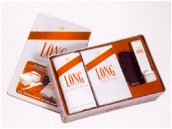 I had never tried Long tobacco until early this year when a very nice lady in the tobacco distribution business sent me a sample. Long's blend is a very nice Danish export from the vast output of the master blender Peter Stokkebye. It is very good tobacco at a bargain price and while I do not like it as well as other Stokkebye offerings like Bali Golden Shag and many others, it is the most sophisticated blend I have yet to find as a kit component. The kit comes with 1.41 ounces (40 grams) of this interesting tobacco, injector, tubes and a nice plastic case. And the whole thing comes packaged

in a great tin box that is useful far beyond the immediate life of its contents. The injector itself is very well made and one of the more attractive you will find with its red and white rounded corner styling. The tubes are standard looking regular strength filtered and as the others above exhibit no papery taste. Our kit came with a leather like pouch/case with a top that folds over with a velcro closer. All in all, a great presentation and a winner as a gift for the smoker considering RYO.
INJECTORS
To emphasize once again the comparison between the injectors found in the above reviewed kits and the larger more efficient table top models like the Supermatic, let me just say that my greatest concern is that the potential new RYO smoker may find the smaller injectors simply too difficult use hence rejecting the concept of rolling one's own before they see the full potential. Please keep in mind that while we encourage no one to smoke, we feel it is important that those that do smoke and wish to continue be made aware of the benefits of rolling your own and to be made aware of the products that we feel best demonstrate said potential benefits. To be sure, we get a lot of mail from those who have mastered the small injector and we certainly agree that such performance is possible. So for someone who wants a relatively inexpensive test run of RYO, the kits, which can be found at most all tobacco outlets, may just be the perfect answer. However, if you find the small injectors too difficult, we suggest you risk the $30-$50 and try the larger ones before you abandon the concept of RYO and return to the $4.00/pack cycle of prepackaged cigarettes.
Even More Kits
A couple of late entries into the kit market caught our attention as this article was nearing completion. Though we have tried neither, their publicized prices and kit content extras make these particular items intriguing. We'll even tell you where we found them. Both have the ingredients to make a full carton of cigarettes
The first one (below) we found at ziggymart.com and it is the Sixty-One Starter Kit priced at only $8.95. For that price you get injector, enough tubes, and Sixty-One Tobacco (see our review of this tobacco in this issue's tobacco page) for a carton of smokes as well as a carrying case and (drink coasters?) as a bonus. We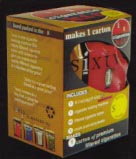 have found Sixty-One tobacco to be pretty good for a low priced alternative, but have no idea as to the quality of the tubes or injector. The second find was at RYO Tobacco (ryotobacco.com) and is the Brookfield Starter Kit. (at right) This bargain, at $11.95, gets you injector, tubes, a 7ounce can of Brookfield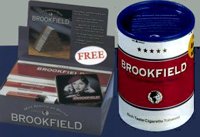 tobacco (manufactured by Davidoff - the cigar maker/ tobacconist) a metal cigarette case, and a lighter. We have tried the Brookfield blend and found it pleasant enough. In fact, to the 'ol taste buds it is very reminiscent of certain Sherman cigarettes and some of you may really love it.
As a final note, we realize we certainly have not represented all of the kits available out there but instead wanted to at least give light to a few of the possibilities. As the holidays approach, if you have a confirmed brand name cigarette smoker on your shopping list who consistently spends their rent money on smoking, you might surprise them with one of these interesting and credible alternatives. - the ed.