The major problem with reviewing rolling papers is that while the packaging varies greatly and in many cases is an art form unto itself, the papers inside this wonderful packaging are often very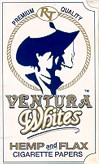 similar, if not identical. Characteristics such as thickness, color, perforations, and the like vary to some degree as do the preferences of individual users of the papers. Some like them thick and easier to roll, while some like them very sheer in order to avoid any paper taste added to their smoke. Papers are rarely made from trees anymore, most are rice, hemp or combinations of other natural fibers that lend themselves well to such processes. Flax, which is a selectively processed form of cotton, is becoming more popular as it creates in the paper blend a silkiness and smoothness that makes rolling a pleasure while imparting little or no unwanted additional taste to the smoke. One of the nicest flax-component papers we have seen is Republic Tobacco's Ventura Brand Whites. Hemp, the other component in these papers adds stability to the paper which makes the final product one of the easiest papers to roll we have seen. Hemp, if it adds any taste at all to your smoke, imparts a nice outdoorsy, woody hint and, of course, passes muster for the enviro-concerned because of its replacement of tree pulp as a main stabilizing ingredient. As stated before, few rolling papers use tree pulp anymore except perhaps as very minor ingredients to stabilize the paper's tensile strength. Tree paper also adds a papery taste to smoke which most people do not care for, so if you get a paper that really tastes like paper then you probably are smoking tree. On the other hand, it must be noted that hemp is an easily grown renewable resource. It has countless applications in a very wide range of industries and has a dynamic future as a universal product much like soy has become. It is useful to note that much of the battle concerning hemp use arises from the strict controls placed on its import/export due to its distant relationship with one of its more interesting and entertaining varieties - that being cannabis sativa or marijuana - and that battle is surely but slowly being won by those who realize hemp's incredible potential and can get over its bio-genic relationship to the drug.

Republic's pure rice paper offering at right, the French Light, is a very fine (sheer) slightly oversize paper that shares some of the wonderful silkiness of the Ventura above. These papers are especially nice for rolling stronger bodied, finer cut shags like most halfzwares. Its gummed edge and the slightly increased width allow rolling of slightly larger diameter smokes. This is a truly classy paper that, while we have not seen them in the grocery/drug store chains yet, is sure to catch on considering Republic Tobacco's adeptness at securing mainstream shelf space with their other products, namely TOP and Drum tobacco.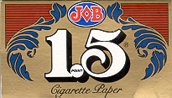 The last of the Republic line of rolling papers we look at this time is a true classic standard that has been around as long as I can remember. They are the Job 1.5's. Republic owns the Job product line and has continued to ensure that this fine line of papers is among the best in the world. The extra width provides a very forgiving roll for the novice and a superior, thicker roll for the more experienced. I have been using Job extra-wides for over 25 years and part of the reason is that they are available almost everywhere papers are sold. They also work extremely well in small hand rolling machines and the extra width serves to make a more rugged stick that can be put in cigarettes cases without falling apart.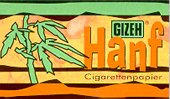 Let's now take a look at some of the Gizeh line of rolling papers. This company is making serious in-roads in the U.S. to match their already huge presence in Europe. The first paper we look at is the Gizeh Hanf extra-wide paper. Similar in size to the Job 1.5, this fine hemp (Hanf we're told being German for Hemp) offering has not only a beautiful cover, but a really nice paper inside. Haven't seen them much in this country yet, except in those places that carry a truly wide, diverse selection on rolling papers. Wider hemp papers are harder to find although several on-line outlets have them and they are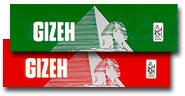 certainly worth looking for. With the growing popularity of hemp products, these papers should start attracting the attention of the die-hard handroller before this year's end.
Also from the Gizeh line is their more traditional selection of papers available in several sizes (widths), thicknesses, and lengths from 70 to 110 mm . They are pictured at left and below, and are certainly worth the effort to find and try them. The blue packages are extra fine (sheer), the red covers

being heavier paper and the green ones being the popular and utilitarian cut-corners instituted years ago by Zig-Zag. We especially like the latter cut-corners as they make the ends of the roll join much smoother than the more traditional square cuts. Let us know if you have a paper you would like reviewed. Whether the artwork makes it special or the paper itself, we are always looking for the unusual.
See ya next time - RYO