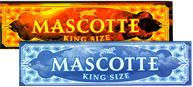 Gizeh of North America has acquired the full line of Mascotte products. When we first looked at the Mascotte papers last year we were quite impressed with both packaging and quality. Though mostly sold in Europe, HBI the huge rolling paper distributor just outside of Phoenix, Arizona sent us some at that time and was then the only source we knew of for these outstanding papers. We assume the HBI will continue to distribute them but will have to get them from Gizeh from now on. What is relevant here is that Gizeh of North

America is a very reliable source and when Rudiger, the head of the US operation, takes on a product, you can rest assured that that product is both a quality one, and that its availability will remain consistent. There is nothing more annoying for retailers than to find a product that has developed a following among their clientele and then suddenly either go out of production or have production shortfalls. The Mascotte (pronounced MAHS-KOTY) we saw last year consisted of only their king-size variety, which we found to be excellent. They were sheer without being lens tissues and the gum was high quality and tasteless. The new batch we got from Gizeh were the smaller 70mm variety. Like most of Gizeh's other paper products, the packaging provides for a generous quantity of papers in each pack (50 to be precise) rather than the customary 33 leaves. These single width 70mm papers come in three varieties.

The Mascotte Special is a standard thickness single width paper that burns evenly and slowly with no added chemicals to either retard or enhance burning. Completely without any added taste, they likewise make the rolling experience, whether hand or machine, easily successful. Excellent quality gum is no doubt a

great part of the reason for their ease of use. The beautifully tasteful Green is identical in every way to the Special except that is a cut-corner version. For those of you who don't know what that means, it simply consists of a 45 degree cut at the bottom of each side of the paper. The logic in this design is that at the end of the rolling process, not having the extra paper at the bottom makes for a smoother finished roll. Finally the Mascotte single width 70mm that really stands out as really different is the

Blue (Bleu - These papers are made in France after all - at the Gizeh Factory). This paper is very sheer, much like the King-sized papers we reviewed last year and that are seen at the top left of this article. This gummed beauty burns as nicely as the un-gummed Club Modiano which gets so much attention and and the Bleu costs a whole lot less. In fact all of these papers are priced right at or below competing brands and since you get more leaves per pack, represent a clear bargain.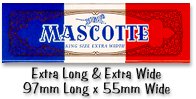 Arriving late but still just in time for this article was a newly packaged (red-white-blue) King-Size (97mm) that is also an Extra Wide. (Width being measured from top to bottom as opposed to length being horizontally). These wider papers facilitate large diameter smokes as well as enhanced ease of rolling for beginners who need more paper to get it all to stick together. With about the same sheerness factor as the Specials and thus less sheer than either the other Mascotte King-sized mentioned above or Gizeh's Blue King size, we find this paper ideal for rolling those long, luxurious halfzware sticks that last and last while giving a great amount of pleasure without all the dizzy. All in all, the entire line of Mascotte products provides a solution for nearly every smoker and we would not be surprised to see Mascotte filter tubes appear in the near future to complete the menu.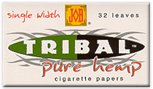 Last issue we reviewed the Republic Tobacco's Tribal Hemp extra sheer papers. While nothing new in this line comes to mind, we did feel it fair to mention that these papers have sold extremely well in our experimental store. We know of no other hemp paper of this sheerness and our customers lap them up. We still are having trouble getting them from many distributors and hope the demographic data published here will soon remedy this situation. Until then, they are still available at http://www.allinthepapers.com and have our unqualified endorsement.
As with various tobaccos, we find variety to be a real bonus to the MYO/RYO experience. No one tobacco will always

dominate our tastes or that of our readers and likewise there are many fine papers to choose from. The subject of "flavored" papers comes to mind any time one thinks of variety and one of the most pleasant surprises in that category is Rizla's Liquorice papers. I guess the main surprise for me was that I am not a fan of liquorice candy. As a matter of fact I hate it! So it took me quite a while to try these and to subsequently stock them in our little store. However, upon trying them I found them to be wonderful with little actual liquorice taste. Mostly they have a sweetness that really enhances certain tobaccos and my customers are crazy for them. By the way did you know that the rolling and pipe tobacco industry uses/buys far more Liquorice than

the candy industry. Interesting to say the least.
And one final late "flavored" entry which has us fascinated is Kardel Blunts from The Sable Group. As to the category of "Blunts", we have had many requests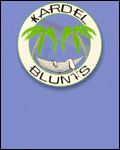 to review them and to see how well they work with premium rolling tobaccos. We will do just that in our next issue. In the meantime here is the information on these handy and delicious tobacco wrappers. Keep in mind that Sable is the exclusive distributor outside the continental US. In other words, a number of distributors in the US handle them including Sable, HBI, etc., but outside the continetal US, Sable is the source.
If you have a rolling paper that we have missed (there are probably quite a few) and that you feel is worthy of a review, let us know. If you are a manufacturer of such a paper, send us some. We don't pretend to know everything and are daily and gratefully surprised by new items. Go to our Contact page and email, write, or send us your samples. We value our readers for the incredible resource that they are. - the ed.

---
Each issue we are increasingly gratified at the emergence of new, exciting products of innovative design and packaging. After all, as the RYO/MYO market grows it is these interesting products that exhibit some flair and style that will help their entry into the mainstream of tobacco enthusiasts. However, as we made note of above, the pricing of rolling papers in the US is becoming somewhat of an issue with our readers and even some distributors. We hear more and more that prices in other countries are substantially lower than those charged for the same products in the US. We hope this situation is not a long term problem and has a reasonable and legal (non anti-trust) explanation. We will cover in a future issue more of what we are able to determine as to the reasons for this apparent and potentially disturbing anomaly. - Doug
---

---
See ya next time - RYO