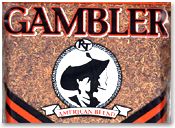 We reviewed the new Gambler tobacco from Republic last time. Since then it has quickly appeared at many outlets and distribution houses. As I humbly predicted it has become a significant success story. We wanted to update our readers on the fact that this wonderful low-cost tobacco is now available in a Light and Menthol version as well as the original Full Flavor show at left. Again our kudos to Republic for the recognition of the need and their subsequent execution in developing a product for a price niche that is mainly filled with grossly inferior grades of tobacco. Gambler is far better than most "cheap" tobaccos, yet is priced right at their level. In the future, pound bags may be available which will make it an even better bargain. Gambler Light is by far my favorite of the line and has most of the characteristic flavor of much more costly blends.
HBI (Herbal Bar Industries) of Phoenix, Arizona and Vancouver, B.C has been a serious player in the Roll Your Own market for some time. Being the largest rolling paper distributor around they have had access and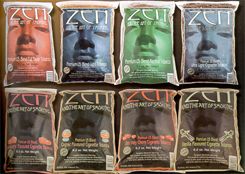 associations with a growing number of manufacturers and have over the years have themselves grown in their distribution of other products including tobacco. It was only a matter of time for a company this progressive to begin their own private label tobacco blend. And because they seem to have a finger on the pulse of the younger (over 21 of course) college age and hipper smoker, it was not surprising that they picked a name for their private label tobacco that would bond with these demographic entities. So ZEN tobacco was born. This is not a new tobacco blend. It reminds me of Farmers Gold and some of the other low-cost tobaccos that, while I personally do not find among my favorites, seem to have a huge following in the more cost-conscious circles. The name, however, is the real deal with this brand. ZEN and the esoteric sayings that accompany the whole line of ZEN products (for instance: "ZEN: The Art Of Smoking") will no doubt make this brand a sum of more than its parts. We already have had people tell us they prefer it to much higher grades of tobacco and claim that price figures little in their assessment. While we remain skeptical on that point, there is no doubt of its potential popularity. We encourage distributors to carry this product as retailers will be asking for it. It is very low in price, perhaps even lower than Sixty-One or Gambler and comes in various size containers. The one pound bag is available in a Full-flavor, Light, Ultra-light, and Menthol. These traditional styles are also available in 6.1 ounce bags. However, true to their innovative spirit, HBI also makes ZEN available in several "flavors". Cherry, Cognac, Vanilla, and Strawberry to be precise. These flavored tobaccos are actually pretty well done and their flavorings mask some of the properties of an otherwise low-cost tobacco taste. We have found them to be surprisingly popular with the college crowd and the traveling through town with no place to live folks as well (Ashland is an artsy college community which gets many tourists, not all of whom have the means to stay in our rather high priced motels).
What is extremely important to note is that HBI has created an entire line of ZEN products, from papers, rollers, tubes, injectors, pipe cleaners, tobacco pouches, rolling boxes, rolling mats (yes that right rolling mats), with more products coming seemingly every day In fact, given that their Light and Ultra-light blends are quite smokeable, a store could conceivably carry nothing but ZEN products and be well stocked for most customers, especially those who are looking for economy as their central reason for making their own smokes. Sixty-One has a similar array of products as does Zig-Zag to a somewhat lesser degree. However Zen is the clear leader in the enormous-variety-of-products category, though it must be noted that both Sixty-One and Zig-Zag have much better hand injectors. We will look at other Zen products throughout this issue and there are quite a few to look at.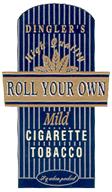 Returning to the subject of Republic Tobacco for a moment, having mentioned above their new Gambler full line, it is fair to say that we at RYO Magazine have commented more than a few times on our reader's comments as to why the European based Douwe-Egberts stopped exporting the original DRUM tobacco to the US, leaving Republic to work so hard at bringing US DRUM to a respectable life here. That is old news much like the disappearance of the popular Three Castles blend and a host of others that were once favorites here. Unfortunately none of these other blends enjoyed a rebirth like Drum for the US market. For the most part these disappointing circumstances were caused by serious concerns regarding tobacco litigations, labeling, and other issues that these manufacturers did not want to address. However, even as many of these great products have disappeared from the US market, there are many imports that remain, such as Samson, Bali, Gauloises, etc. And there seems to be a renewed interest in the US market from manufacturers of lesser known but outstanding quality products from many places overseas. One example is Dingler's tobacco from South Africa. This product is distributed by Swedish Match of South Africa who contacted us and asked that we evaluate. Once it arrived, we were immediately impressed with its apparent leaf quality. Dingler's makes both a standard and light (mild) version that is a long, fine cut shag which, upon close inspection, is obviously a product of high grade components. Dingler's also makes various "flavored" tobaccos which, while not our particular cup of tea, do have a potentially large market here for the boutique smoker. Unfortunately, the Dingler's samples sent to us by Swedish Match arrived in one box with the flavored versions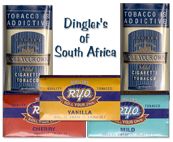 (Vanilla, Cherry) packed next to the non-flavored ones. Now it is hot in Africa and during the week-plus journey to here during the summer months, some of the aromatic flavor of the cherry and vanilla blends apparently mixed ambiently with the non-flavored packages. The result of this is common with any packaging of different tobaccos that have strong individual aromatic characteristics. Even mixing bags of menthol and regular tobacco in a several day-long shipment will cause the non-menthol tobacco to take on some of the characteristics of the mentholated blend. The result is that the regular tobacco is contaminated with just enough menthol flavor to make it taste a bit moldy especially for those who have a serious aversion to menthol products. Mixing otherwise wonderfully flavored tobaccos with standard cigarette blends has a similar effect. The non-flavored tobacco takes on a "soapy" taste that is almost cosmetic (face powder like) in nature. So the Dingler's we received had that slightly soapy taste. We dried the tobacco in the sun and fresh air (for about a week - a couple hours per day) and as the unwanted taste began to dissipate, we found that our expectations of these blends, that had been initially quite positive (based on what seemed to be very high quality tobacco), began to be realized. We think that this product has a definite future in the ever-expanding MYO/RYO market here in the US and if Swedish Match is vigilant in keeping the flavored separated from the non-flavored, we predict yet another possible success story. At this writing we have no idea at what price point this tobacco could enter the US market but if the price is reasonable, the response could be significant. It is very mild and soft on the palette. Cool name too!
Tobacco, especially cigarette tobacco is a sensitive product in that it absorbs odors more efficiently than even baking soda. You can easily contaminate cigarette tobacco by keeping it in an enclosed proximity with your favorite pipe tobacco but conversely you can create your own favorite "flavored" blend by exposing the tobacco to proximity ambient flavors. I occasionally add a touch of vanilla to a storage container of smoking tobacco to give it a bit of that taste. It is not necessary to actually apply the flavoring to the tobacco itself and many folks who like a mild menthol blend could do the same by exposing non-mentholated tobacco to the ambient odors of a menthol blend without actually mixing the two together. It takes very little aroma to permeate tobacco so if flavoring is your intent, start subtle.

We have written volumes about Peter Stokkebye International's McClintock tobacco. This low priced, exceptionally high quality tobacco has been a consistent favorite of ours throughout its evolution from the original Green Can to present. Though much controversy has surrounded the change in the tobacco during the original Green to new Gold packaging, we still found the new lighter Gold to be exceptional. And as reported in the last issue, as the tobacco has been around awhile, the Gold is beginning to show up darker. We also reviewed that McClintock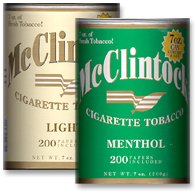 RED which we did not like as well as the Gold but still found it to be worthy of writing about. It is fair to say that since that writing we have received and enormous number of email messages from folks who absolutely LOVE the Red. In fact, according to the company, the Red far outsells the Gold. It comes in a larger can and represents in that container even a better bargain than the Gold. Our complaint, though that is too strong a word, was that the Red had a fruity aroma (apples to prunes - depending on whose nose you listened to) that we did not relish. The tobacco flavor, though stronger than the Gold, did not transmit that fruity character when smoked but nonetheless we liked the Gold much better. Now Stokkebye has come out with new versions of the Red which include a Light version and a Menthol. Neither have that fruity smell and the Light in particular is very, very tasty. We are not fans of Menthol (as you should know by now, we have trouble getting past the "Vicks" smell to determine the actual taste qualities of any mentholated tobacco), but this Menthol blend seems more subtle and we are sure that the tobacco quality is of the same high standards that Stokkebye always produces. The Light version reminds me a bit of the Master Roll Light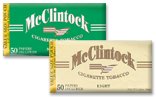 tobacco we reviewed a year ago (see Archives April/June 2001) but not having any of that now defunct Core-Mark product that Stokkebye created for them, my taste-memory is all one has to rely on. Regardless, this new Light is extremely satisfying and if it indeed eventually comes in the larger cans that distinguished the McClintock Red, it is going to be a big hit even with those who turned their noses up at the original Red. I have smoked the samples quite a bit in the past few weeks and have truly enjoyed it. Seems that Peter and company have once again come up with a winner. We are impressed. As a final note to the menthol issue, mentholated tobacco makes me ill. None of our testing group are menthol smokers, but I do have a few as customers in our experimental RYO Store. (The store, by the way is now closed as I simply do not have time to run that and the other businesses I conduct including this magazine. More on this can be found in the Editorial section of this issue including the latest news on the large number of folks who have asked to participate by franchising RYO Stores in their respective locales). But back to the subject at hand which is menthol smokes. My menthol customers love this new blend as well as the Gambler menthol. They tell me that most mentholated products in the rolling tobacco industry have simply too much menthol. As we have discussed before menthol flavorings tend to propagate, increasing in strength over time such that the longer you have a bag of menthol tobacco or the older the bag is when you buy it, the more intense the effect. Currently, a very small portion of make your own customers are menthol smokers but the number is growing and tobaccos that go a little easier on the menthol content like the ones mentioned above, while using truly high grade tobaccos as a base, will help increase the conversion of packaged menthol cigarette devotees to the MYO world.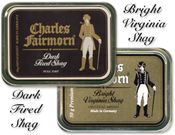 We mentioned earlier the increasing presence of interesting imported tobaccos. Well there is one in particular that, while it has been around for a while, has remained relatively undiscovered by most. In fact we had only seen this tobacco at the RYO Tobacco site ( www.ryotobacco.com ) and we had not had the opportunity to try it. This last April while at the ITE (International Tobacco Expo) - which by the way is an ideal venue for new products to be introduced as it is a smaller, less expensive trade gathering in Las Vegas that allows companies with smaller promotional budgets to participate when compared with the much more robust and product diverse RTDA (Retail Tobacco Dealers Association) Convention held in July (this time also in Vegas) - we had just such an opportunity. The product is Charles Fairmorn and it comes in beautiful brass colored metal tins (50 grams) and represent two distinct styles of tobacco. Fairmorn's Dark Fired Shag is an absolutely outstanding halfzware style tobacco. Though not as long in cut as most more traditional halfzwares, the flavor is exceptionally fragrant and is reminiscent of Gauloises Halfzware. The other style, a Bright Virginia Shag, (very much an American style) is also outstanding. The packaging is great, although the tin is not cellophane wrapped and the tobacco, which is encased in a foil envelope that is not air tight, can dry out more than blends that are completely sealed from outside air. Nonetheless, even with a potentially drier mixture to start with, the tobacco is wonderful and can easily be hydrated by leaving the tin or the tobacco itself in a good tobacco jar for a short time. And it is certainly worth the trouble. This is great German tobacco and deserves a much wider audience. We met with both the US Distributor, Gerard Ezvan, from the F&K Cigar Company as well as the export sales manager for the Von Eiken Group, a delightful young German fellow, Christoph Borchers and found both to be extremely affable and entertaining. And why not -they have a great product and while F&K is mostly a Cigar Distributor, they have a number of other German cigarette tobaccos that are available in bulk and represent significant value. We look forward to meeting with them again this July at the RTDA and will flesh out our knowledge of all of the great products these folks can supply. Until then, if you want a real treat, go to the RYO Tobacco ( www.ryotobacco.com) website mentioned above and try a couple of tins of Fairmorn. It is truly a nice addition for the MYO/RYO enthusiast's tobacco cache.

---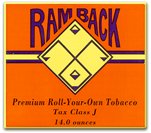 Since our first issue in January of 2000, we have continued to applaud the efforts of Mark Ryan of D&R Tobacco (www.cigarettetobacco.com) for his fair pricing and excellent tobacco blends. In our last issue, we extolled the virtues of his new Ramback Turkish blend which is now beginning to make its presence known and accepted by several large distributors. Likewise, his Windsail tubes are finding a larger audience. It is worthy of note that of the many folks who have tried the Ramback Turkish as well as Lane's Oriental Blend #1 there are some who find these wonderful tobaccos simply too mild. We disagree but must admit that when we smoke either of these blends, we use full-flavored tubes rather than our usual light Escorts. This simple adjustment makes all the difference in the experience, which is one of the reasons Ryan decided to make his Windsail full flavor tubes. (The other is that no other full flavored, white tipped tube exists). So for those of you who have not grown to yet appreciate the delicate ambience and sophisticated flavor of true Turkish Style tobaccos, try them in a full flavored tube. You may then see and appreciate what all the excitement is about.

As we mentioned in our cover article "How High the Moon" this magazine is expanding its focus in several ways. One is that it will become a print media magazine later this year as well as continue as an online resource. We also are going to expand our focus on other types of smoking pleasures including pipe tobaccos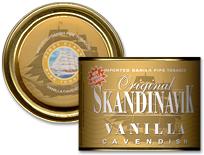 . As a first volley at this new category we have found from Peter Stokkebye a most incredible new product. It is new entry into the line of Skandinavik pipe tobacco. Now there are many delicious pipe tobaccos that I have enjoyed for over 30+ years, many from Lane Ltd and many from Peter Stokkebye. As a pipe smoker I have come to accept the fact that like coffee, pipe tobaccos often smell better than they taste. It is not that they taste bad but little of the wonderful aroma that reaches the nose actually translates to the palette. Morgan Snead of the Stokkebye company introduced the latest in their Skandinavik line to me this April at the ITE. Appropriately named Vanilla Cavendish, it is much more aromatic than the rest of the Skandinavik blends which until now catered to the older, more traditional pipe smoker who doesn't want all the aroma that is typical of most pipe tobacco. Now Peter makes a lot of very aromatic tobaccos as does Lane, Dunhill, McClellan and others but NOTHING I have ever tasted had the immediate and ecstatically pleasurable effect on my palette. Stokkebye's new Skandinavik Vanilla Cavindish is absolutely mouth watering, moist, sweet (but not syrupy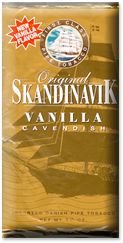 sweet), and downright delicious. It practically has food value it is so good. Now all of that seems like a pretty big load of hype but take my word for it, nothing you pipe smokers have ever sucked into your mouth compares to the taste bud orgasm you will experience with this stuff. It is my hands down favorite for all time. Sources tell us that it has become Peter's favorite as well.
It appears that after all of the other processing, aging and flavoring that pipe tobaccos normally undergo, they have actually added another layer of pure vanilla to the final mix and you can really taste it. A while ago Peter Stokkebye sent me some of his new Black Truffle pipe mixture and while it had similar impact on my taste buds, I found the aroma too exotic for my tastes. Many who tried it at my behest disagreed and it soon became their favorite. Both tobaccos are similar in appearance, having large thin chunks (sheets practically) of tan Virginia tobacco in the mix which probably helps hold and release the tremendous oral flavors these tobacco produce but the Vanilla is less exotic and even more seductive. It also benefits from the wider distribution that Skandinavik products enjoy which includes many general merchandise stores like Albertson's, etc., while the Truffle is available only through tobacco shops in bulk. All Skandinavik blends come in 50 gram pouches and in great looking 4.5 ounce tins (shown above) but this Vanilla is a treat unmatched by anything you will ever find in a grocery store. Ric at RYO Tobacco, the industry's resident bah-humbug about everything, carries it now and I was almost able to get a positive utterance from him and believe me, that is rare. This stuff blew my mind, taste buds, and with no bite! With all of the great pipe tobaccos out there, it may seem a little naive to begin talking about them with what may be a very hard act to follow. Nonetheless this mixture deserves it - every bit it does.
Cigars are another area of interest to me and many of the customers we had at the store. there are many fine cigars that are reasonably priced, some that are every bit as good as the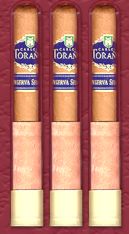 really expensive ones. The trick is to find them and we had great success at doing just that with the able help of Jan from Cascade Cigar & Tobacco (www.cascadecigar.com ). I, having smoked and written about cigars for some number of years have pretty strong preferences, mostly leaning toward the darker, maduro, Honduran sticks. A few months ago, Rico from Torano Cigars, sent us some samples and though some were of the darker types that I like, also sent a couple of their Natural (light tan) wrapped "Reserva Selectas." These have become some of my favorite smokes and though we are,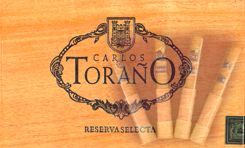 currently at least, a rolling tobacco magazine, I felt it only prudent to alert our readers, many of whom are also cigar lovers, to this brand. They come in drop-dead-gorgeous cedar boxes and are probably the most exquisite looking stick I have ever laid eyes on. The taste of these cigars, though milder than the darker Hondurans I normally drool over, is pure Honduran with a really toasty flavor. My favorites are the Petite Corona size (40 ring x 5.5") but even the much larger Churchills are absolutely wonderful. We will let you know where these treats can be found. Cascade Cigar ( www.cascadecigar.com ) has them for sure but I suspect they are going to be available at many cigar locations in the near future. They are classy and yummy and reasonably priced as well!
Remember that no matter what you read in these pages about tobacco, you owe it to yourself to try each blend yourself. Everyone has different tastes and no one opinion is right or wrong. As long as you enjoy the flavor and can afford to buy it, for you, the tobacco you choose is the best in the world - whether you smoke one brand or fifteen different brands for variety. After all, that is the logic and specialness of RYO. You can put any kind of tobacco you damn well please in your cigarette - whichever mood may strike. - RYO
---
EDITOR'S NOTE: These reviews are solely for the convenience of people of legal age who already smoke, are trying to cut down on smoking, wish to spend less money on their smoking, want to roll their own cigarettes from high quality tobacco, and, in general, wish to have a far more satisfying, and economical smoking experience when compared with smoking pre-manufactured cigarettes. We, in no way, encourage people to smoke. Further, we prescribe to a sane, more logical approach to smoking that involves common sense as to quantity coupled with a strong desire to manage the habit until it becomes an occasional, freely chosen, diversion, that can be fully enjoyed with minimal health risks. Finally, we strongly encourage those who do smoke to take it outdoors, or to appropriate environments where tobacco can be enjoyed away from those who do not smoke, most especially children. We do not sell tobacco or related products from this site; We distribute information about our perceptions of the quality of what is available and where it can be obtained. If you are under 18, it is illegal to buy tobacco and you should immediately exit this site. If you do not smoke, it would seem illogical to start.