Rolling papers have the dual distinction of providing some of the most beautiful visuals as to their packaging while conversely providing little to actually write about. They are either good or bad, burn slow or fast, are made of wood (yuck!!) rice, hemp or flax, have flavors or not, and are of usually one of three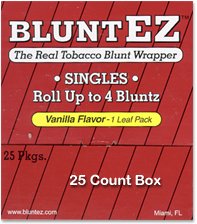 lengths. I don't mean to minimize the importance of rolling papers. In total, they make up a large portion of the RYO industry sales. It is just that there are only so many things you can say about them.

Now, the Blunt wrap subject, that we have focused on over the last few issues, is much more dynamic and the products that do exist in this general category, while there are similarities among them, have qualities and perceived useage that is often quite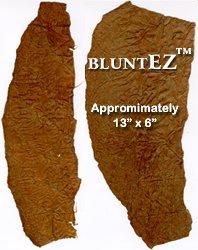 different from one another. Add to the mix that this segment of the market is now beginning to include real tobacco leaf rather than the"homogenized" paper impregnated with tobacco and you have a subject that will continue to be of interest. Recently, we received a new "wrap" from BluntEZ. This one differs from all of the others we have seen in that it is a whole tobacco leaf, and a very high quality one at that. They come in various flavors though we've only seen the vanilla. Each leaf varies a bit in size and shape but not in quality. These wraps are downright delicious.
Cut the way the are, (or uncut, if you will), leaves an interesting situation for the user. You can either cut them up and fill with tobacco for various sized smaller smokes, or use the whole leaf filled with tobacco for a unique cigar-like flavor while using cigarette tobacco as filler thus retaining the mildness needed to inhale the smoke. I suppose you could obtain more authentic cigar filler as well and make a real cigar, and, in fact, such filler-like tobaccos are starting to appear and though these "homemade" cigars would not nearly be of the quality of a fine aged cigar, they could be a rather interesting and certainly enjoyable alternative.
However, there is another way to enjoy these delicious leafs, and that is to simply moisten them a bit and roll them up tightly with NO other tobacco inside. The wrapper on any good cigar lends a great deal of the taste to the finished product. Therefore, a stick that is pure wrapper should give one an exceptional quality smoke as the filler in most cigars is much lower grade tobacco and not only adds to the strength of the final smoke but detracts from the luscious flavor of the wrapper itself.


So we tried just that - rolling the leaf itself with no tobacco inside. The result, after a bit of experimenting with how to best accomplish this, was to say the least, outstanding! The final stick, after a few bungled tries is shown at right. We let it dry and then trimmed it a bit, but this final stick held together quite nicely even without adhesive and the flavor and aroma rivaled anything we have tried short of very expensive Cubans or high end "Vintage" or "Reserve" series name brand cigars. The draw is easier obviously because there is no filler, but if you roll it tight enough, the burn is very even and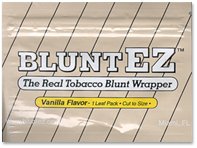 the stick lasts at least as long as a similar sized apertif cigar. Our best attempt was pretty attractive, the others looking more like the rough sticks in a Clint Eastwood "spaghetti" western. Even the worst looking ones of the bunch were savory. Now I know you cigar enthusiasts are going to find this hard to believe, so all I can say is spend a buck (that's the anticipated retail price of these wraps) and try it for yourself. You will be somewhere from surprised to amazed at the tasteful aesthetics of the finished product.

Part of what makes this leaf so good (in addition to the fact that it is very high quality leaf) is the fact that the packaging is likewise superb. The sealed foil package is impervious to drying environmental forces and these little packets, with the leaf folded approximately in quarters, will fit in any pocket or back pack - or even purse, and stay in very good shape through even rather aggressive adventures. In fact, once the weather cooled here a bit and it turned into hiking season, I carry several of these with me and make a good smoke as I feel the need. The stick will last all day with normal puffing, occasionally putting it out, as I tend to smoke all cigars this way. Again, the packaging is important not only for initial storage but for those who are going to cut these leaves into small segments and roll tobacco sticks. The pouch is a resealable zip lock. Once you tear off the perforated top, the package becomes a mini-baggie but its foil construction and well designed "zip" lets in no air whatsoever. Each pouch is about the outer dimensions of a pack of cigarettes but the foil pack is thin so you can stuff several dozen of these into a very small space. You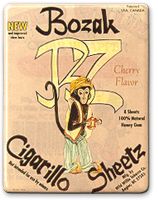 get one leaf per pouch and, as I said, one leaf will last me most of an entire day of enjoyment.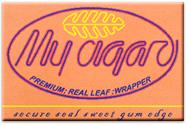 This product is an interesting nuance to a market that is striving to create pure tobacco wraps that are cut to cigarillo size, like the First Father's and Bozak products below. These are designed to fill with tobacco and while the First Fathers is incredibly high quality leaf and has adhesive, the Bozak is a reconstituted tobacco product with adhesive to aid in keeping everything stuck together. Even though not pure tobacco, the sheerness of the Bozak makes for a very tasty smoke. The rectangular cut First Fathers with adhesive is pure high quality leaf. All of these products signal the emergence of a very interesting new segment of the RYO industry. Both Bozak and First Father products can be used effectively with normal hand rolling machines while the BluntEZ is more suited for hand rolling though, if cut properly, they too will work in a roller. You have to get them pretty wet to stick together when using a roller but even without a lot of moisture first, hand rolling a full sized BluntEZ leaf was pretty easy and after the roll is complete, wetting the whole stick with water or saliva will keep it together. We like all of these products and hope they gain the legitimate attention of the tobacco retailer for the legitimate tobacco products they are.

To return to the subject of traditional rolling paper briefly, we thought we would show you more from the seemingly never-ending supply of interesting items from HBI. We have long contended that rolling papers often sell based on the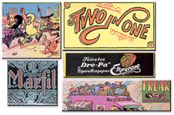 exterior design of the packaging as much as for what is inside. Years ago, when one could find a "head" shop on every corner, the design of paper covers was an art form in and of itself, much like fruit crate labels. Wild designs like these that existed back then are increasingly difficult to find. We happened to be looking through the new HBI catalog and were amazed to find several striking examples of just that sort of artwork. We thought it would be nice to share these works of art with you. Many are pure eye candy while some contain papers that are truly different - like corn straw-based Smoking Maiz.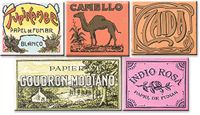 Some of these brands have been around for centuries but are hard to find nowadays. Leave it to HBI to resurrect these wonderful products and make them available for distribution once again to the US rolling paper consumer. Enjoy the art.
It is important to note here that while HBI is the largest rolling paper distributor on the planet, they also manufacture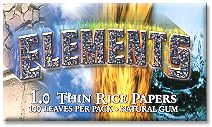 many brands including their ZEN, Elements, and others. Even of more interest, based on the large amount of email we receive regarding private label papers, is that HBI is now actively pursuing the Private Label business with short run capabilities (1,000 packs minimum). Until recently, such small orders for custom papers in interleaved packs were simply ignored by most manufacturers. Randy's of San Francisco did and still does make the very short run available to many with their non-interleaved pouch papers but the interleaving process requires sophisticated packaging machinery and the set up alone was deemed too costly to do short runs. HBI has changed finally all of that and we expect a lot of folks to take them up on their proposal. If you are interested in private label papers, go to the HBI web site www.hbiinternational.com or the www.zensmoke.com site for more information. Rolling papers can make a great leave-behind or promotional calling card in certain industries, especially the music business. We have sent a number of readers to Randy's and now to HBI. If you want your name and artwork on your own "brand" of rolling papers, there has never been a better time to do so.

Lastly, we would like to tell you a little more about a paper we reviewed last time whose innovative packaging is creating quite a stir with consumers. This paper, the "Twister" is from Gizeh, one of the true giants of the rolling paper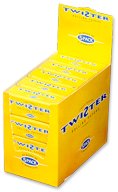 manufacturing industry. It comes in a five pack that is very economical and easy to transport and maintain the integrity of. These are nice papers, nothing fancy, but fairly sheer and even burning as are all of Gizeh's products. The five pack design of each little box really does protect the papers from moisture as well as crushing and I would be surprised if more makers do not adopt this packaging scheme. Gizeh also has a new low cost Twister tube which we take a look at this time in our Filters section. Gizeh remains on the cutting edge of product development and we can expect this robust German/American company to continue to produce many of our favorites including their popular premium quality Silvertip, Hanf (one of our all time favorite hemp papers), and the silky smooth Sphinx rolling papers.
We recently received some graphics from Republic Tobacco that highlights their new full flavored line of Golden Wraps rolling papers. These and Brownies were our first experience at papers containing some tobacco (i.e., tobacco wraps) and these initial products probably had a lot to do with the growing popularity of the blunt wraps market. Now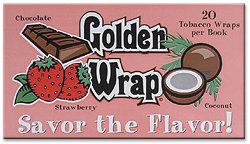 Republic has extended their line of Golden Wraps to include some delicious new flavors to compliment their original and Cognac flavors. These include Chocolate, Strawberry (always a favorite amongst rollers) and Coconut. We saw them at the RTDA but never got a chance to really try them out. We expect to receive the whole assortment soon and will let you now how they taste. If they are anything in quality like the Cognac, which is subltle yet aromatic and has a delicious reaction on the palette, we think they will likewise become quite popular. We show a picture of the assortment display logo at left.
With each issue, we are increasingly gratified at the emergence of new, exciting products of innovative design and packaging. After all, as the RYO/MYO market grows, it is these interesting products that exhibit some flair and style that will help their entry into the mainstream of tobacco enthusiasts. Even more importantly, rolling papers can have a surprisingly positive effect in attracting customers to the tobacco store. Many enthusiasts seek out stores that have a wide variety of papers as it shows a commitment to the whole experience. These often beautiful little items can really dress up the display counter as well, and the variety is almost endless. However, as we made note of before, the pricing of rolling papers in the US is becoming somewhat of an issue with our readers and even some distributors. We hear more and more that prices in other countries are substantially lower than those charged for the same products in the US. Companies like HBI and others are very proactive in getting lines of economical, yet high quality paper products into the hands of retailers and thus consumers. We hope the situation is not a long term problem and has a reasonable and legal (non anti-trust) explanation but even at the current prices, rolling one's own is a true experience in economy and pleasure. - Doug
---