As mentioned in our Special Review section this time, we get excited about new and/or unique products. And while the subject of this issue's Rolling Papers review is by no means a new item, it is most definitely among the most unique and useful innovations we have seen. Welcome to the world of Randy's Wired Rolling Papers. A product of CTC, LTD of San Francisco, Randy's has been making papers since the mid-1970's. In all that time, although I had heard the name more than once, I had never tried their product. Considering how much I smoked in the 70's of things that could be rolled in a paper, and even more to the point, how many times I burned my fingers back then for want of a roach clip, it is incomprehensible to me that I was unaware of these papers. When I asked my kids (kids, hell, they are all in their mid to late twenties) about Randy's Wired papers they looked at me like I must have been in a coma. They were fully aware of these utilitarian devices and assumed most other people on the planet were likewise. While it may be that Randy's Wired papers were originally intended for a younger and more "wired" audience, they are every bit as useful for tobacco rolling. Most people I know who actually roll their own cigarettes (as opposed to injecting tobacco into tubes like I prefer) face the same problem with burned fingers that I used to experience.

The secret to this paper's design is a very thin, steel wire embedded in the bottom edge of each paper that allows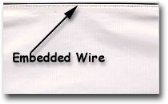 the smoker something to hold on to as the cigarette burns down (see picture at right). The wire is high quality stainless steel and is chemically non-reacting, adds no taste, and somehow manages to stay cool. The presence of this wire also seems to stabilize the paper making rolling actually somewhat easier. And considering the fact that the price of Randy's wired papers are very close to that of non-wired papers, you can hardly go wrong.
A healthy percentage of tobacco shops already carry these papers, but not all. I have yet to find them at Safeway or other mainstream grocery stores. Hopefully, this will change as word spreads of their unique functionality for the RYO market. The "head/paraphernalia" shops that still exist all seem to carry them. Of course, they are available on-line at randys.com

Randy's makes several different designs and sizes including a non-wired variety by the name of Rita's. All of the papers we tried were of excellent quality and though the wired versions are made

from a somewhat heavier paper, there was none of that offensive paper taste occasionally associated with heavier rolling papers. In addition to the standard 70mm Randy's paper, they also make a larger (longer) 90mm length known as King Randy's (shown at right) as well as a EuroRandy's that appears to be very similar to the "King."
Private Labels - "Promote Your Company"

Perhaps the most interesting thing about Randy's operation (in addition of course to the sheer uniqueness of their "wired" products) are their "Private Label" papers. Specifically, Randy's will make papers for you with your own design (business logo, info, etc.) right on the cover. For all intent and purposes these papers will look like your own brand. This is, potentially, a great

promotional item for tobacco stores as well as other businesses that would be comfortable with rolling papers as a leave behind "gift" or as an attention getting calling card. Much better than a matchbook (is there still such a thing as matchbook advertising) and certainly useful for those that smoke. With all the fuss over smoking, and the fact that RYO smoking will likely become the only way that many people will be able to afford to smoke at all, the rolling paper should enjoy a consistent popularity and success. We can think of no more unique product to catch the attention of those we wish to attract than with a Randy's, or even better, an RYO Magazine Rolling Paper . . . and . . . that, in conjunction with Randy's, we are working on as these words appear.


See ya next time - RYO