I don't know about you, but I suspect we all get somewhat sloppy over new ideas and particularly that rare breed of human with the foresight, energy, and determination to take a new idea and turn it into a paying proposition. This month's special review deals with Chills, a company started by a young Florida man, Chris Hill, in his family's garage (of course) that now is among the 500 fastest growing companies in the US. That, in and of itself, is quite an accomplishment. What impresses and interests us even more is the fact that one of our favorite disciplines, namely "branding" is at the heart of this phenomenal success story. Branding, as you would expect, hinges on the concept that regardless of what you sell, the name of the product (or the name of the company that sells it) is vital. And more importantly, the feeling that one gets when hearing the name, that it is indeed a brand name, often creates the

impression that it is indeed a familiar name long before the product sells enough to truly deserve being called a brand name. For instance, in the music business, potential hit songs are hard to come by but easy to recognize, especially if they're arranged in a seductive manner. In product development, that arrangement is called packaging. The point is that even if the name "Chills" were given to have branding possibilities, the use of, for instance, a polar bear logo, would probably not have had the same appeal as does their signature Alien. Chills was well aware of their initial younger market and the little "alien" was an ingenious pick. (Conceivably, the popularity of television's X-Files was likely an important factor in the logo selection.) And as far as the name is concerned, Chris Hill's Hemp Rolling Papers would probably not have floated many boats. But the name Chills, in combination with the alien look, and the added bonus of environmentally responsible tree-free hemp ingredients has every mark of a winner. As we have pointed out many times, we have found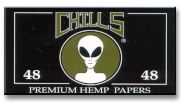 that most rolling papers are usually of good quality. However, I do, personally, like the way hemp burns and tastes and Chills has plenty of variety when it comes to paper sizes.

While there are other hemp papers on the market, Chills takes eco-responsibility one step further with the exclusion of "burning salts" used in some papers to promote burning. While Chills are naturally slow burning, we have had no problem keeping them lit. It is also noteworthy that Chills is the first papers of their kind to be approved by US Customs and, they control the manufacture of their own papers. When you put it all together, Chills has touched a lot of bases. We will do an in-depth review of these papers in our next issue of the Rolling Papers column but for now, as I think we all can learn something from Chills success, lets continue to focus on the entrepreneurial aspect of this company.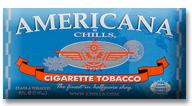 Talk about filling a niche, the sudden disappearance of Drum tobacco from the shelves of grocery and convenience stores has raised about as much ruckus as one could expect in the often mundane world of RYO smoking (mundane, at least, until one gets into the explosive subject of smoker's rights and tobacco legislation). Enter Chill's Americana, one of the very best replacements for this much missed tobacco. We get several dozen communications per week from people bemoaning the absence of Drum and this entry not only fills that void but, in our opinion, is far superior to the original Drum tobacco. No kidding, this stuff is great! Chills is directing the focus of this product at not only tobacco shops which have already begun to seriously stock Americana, and with whom Chills, through a lot of hard work, already enjoys a great rapport, but at the grocery and convenience store arena that is so very difficult to break into. Given the sheer kinetic enthusiasm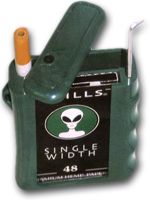 exuded by this remarkable company, the quality and price of their products, and the depth of their supply chain, Chills should be successful in this wider market even with the often frustrating pseudo-political gymnastics necessary to secure position (shelf space).
The Survival Kit
While frequently guilty of NOT saving the best for last (sometimes I just can't resist eating my dessert first - you never know if you'll have enough room for it if you don't), I have enforced a discipline on myself this time to do just that. So without further adieu . . . we give you the Chill's Survival Kit . . . A simply "kick-in-the-butt-for-not-thinking-of-this-myself" product. This ingenious and tough little high impact plastic container (shown at right) will hold all the goodies for the smoker on the run. The case has a sizable tobacco storage compartment (nearly 1/2 oz.) and comes equipped with a compartment for rolling papers (1 pack included), a smoker's "bat" (more on that in a minute) and a handy pick to clear the tobacco compartment and to help pack the bat. A smoking "bat" is simply a hollow metal tubular device designed to look like a filter cigarette. It allows the user to tamp some tobacco into one end, light that end and smoke one or two hits (hence, we think, the name "bat"). It's reasonably priced, works surprisingly well, and the couple of puffs it provides are not at all harsh. The bat can also be use to hold a fairly thin hand rolled cigarette. So, in one cool looking package, you can carry your full day's supply of smoking materials. We can think of few novelty items that are more useful and that would make a more creative gift for the smoker.
Chills is a company that certainly bears watching and we would not be the least bit surprised to one day find Chris Hill mounting the lecture circuit stage, so often frequented by other successful entrepreneurs, to give us the inside scoop on how he made his fortune. We suspect, however, that three little words will dominate any such discussion. And they are . . . "Sell, Sell, Sell." - RYO