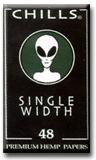 The subject of the Special Review last issue was Chills - the company. This dynamic organization continues to make inroads in the RYO world and as promised, this time, we will take a more detailed look at their principal product. the Chills Hemp Rolling Paper.

Hemp papers have gained a great deal of popularity over the years because of the "tree-free" nature of this product. They burn very smoothly and, in general, are a little heavier thus making them easier to roll tobacco in, especially heavier or larger cuts. Many of the finest papers are made from rice thus sharing the tree-free exclusivity, but rice papers can be very sheer and the least bit of over-moistening can cause the finished rolled product to be very tenuous. And while there are other hemp papers on the market, Chills takes eco-responsibility one step further with the exclusion of "burning salts" used in some papers to promote burning. Though Chills are naturally slow burning, we have had no problem keeping them lit. It is also noteworthy that Chills is the first papers of their kind to be approved by US Customs (hemp comes from the same general family of plant as does cannabis sativa/marijuana and therefore has at times suffered from foolish import/export regulations both in this country and abroad).
Chills, like Randy's (see review in the Rolling Papers section of the May/June issue), control the manufacture of their namesake papers. There are a number of advantage to having this kind of control. First of all, by controlling the manufacturing of a particular paper, a company can better control/maintain its market advantage by producing quantities that realistically fit each of its particular market segments. There are, realistically, no "minimum" or "maximum" quantity limitations and the company can, theoretically at least, produce quantities that it feels are needed of a particular style

that might seem to be moving better at any given time. More importantly, it puts the company in the unique position of producing papers for potential and future competitors, providing an even wider market potential.
Chills makes a very nice hemp paper. But often what sells papers is display art, product packaging, logo design and "branding" potential. Papers, with certain exceptions, tend to be pretty much the same especially in the view of the general smoking public and sell based, to a degree, on what is "cool" at the time. Chills understood the art of branding,

pretty much from the start, which no doubt goes a long way in explaining the phenomenal growth of this company. Acknowledged as one of the nation's 500 fastest growing companies recently by Inc. Magazine, Chills has already made it a long way up the ladder to the major leagues and quite able to compete with companies that have literally been making rolling papers for centuries. However, it should be noted that, as rolling paper manufacturers increase their market share within the frame work of roll your own tobacco smoking, smoker's will become increasingly more selective as to the quality of the papers they use and the ease with which they can roll their tobacco. The outstanding quality of the Chills hemp should position them nicely for this expanding market. They offer a wide variety of sizes, both in width and length and their visibility on tobacco counters seems to be increasing daily. Plus, they are a fun company, well suited to attract the sometimes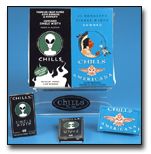 fickle members of the 21-35 year old crowd who want to roll their own.
Already, a healthy percentage of tobacco shops already carry these papers, but not all. I have yet to find them at Safeway or other mainstream grocery/drug stores. Hopefully, this will change as these major marketing venues realize and choose to capitalize on the growth of roll your own smoking. Years ago, when there was a head shop on every corner (well, practically) papers like Chills and Randy's would have had a much better shot at the market as those niche retail environments often carried hundreds of brands of papers. Nowadays, only the local tobacco shop has a decent selection of papers and often they will carry fewer than a half dozen brands. As retailers realize that customers want a larger selection and that papers, either for reasons of content, art, or quality, do differ in the tasteful eye of the customer, it is likely that you will see many more fine papers in the "convenience" environment. It would certainly be our recommendation that Chills be one of them.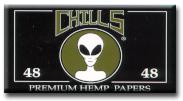 One last note. We often mention Chills and Randy's in the same breath. There are several reasons for this. They are both dynamic companies with interesting, high quality products that are taking on the challenge of competing with much larger (and older, more mature) organizations for market share. Chills is a little over 6 years old while Randy's has been making papers since the late 60's (the good old days). With 50 million smokers in the U.S. alone, we think it is good for the smoking public that these younger, smaller companies thrive. Innovation usually comes from the small private sector with big companies, like big boats, finding redirection a tough course. The sheer size (and power) of the cigarette tobacco companies led, in great part, to their problems. We need the smaller companies to make it. Support them. Their innovative styles could likely fuel the next generation of product design, thus encouraging wider availability and an even greater level of convenience for the RYO smoker.
See ya next time - RYO