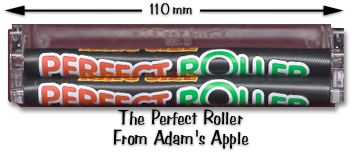 In previous issues, we have looked at various rolling machines (hand-held) that all do pretty much the same quality of roll and are, for the most part, pretty similar in design. Back in the July/September issue, we reviewed Rizla's 110 mm blue acrylic roller (with orange blanket) and still feel it is the most versatile machine on the market (go to the Back Issues page using the link above left and click on the Rollers section of the July/September Issue). However due to availability, we failed to test the other 100+mm roller that is out there and while it is similar in function, design and capability to the

Rizla, there are some important differences that merit a quick look. First of all, it is manufactured for Adam's apple who is associated in a distribution arrangement with Republic Tobacco, makers of Drum and Top tobacco. We are not confident as to the specifics of their reciprocal association but feel it is nice to know that this roller has at least some roots in the US (Rizla is European - UK/France) although it may not be manufactured here either. The major difference is

that the blanket is not as textured as the Rizla and therefore does not grab the paper quite as well when rolling. Otherwise except for the fact that the roller wholesales at a slightly higher cost than the Rizla, they both perform admirably and allow the user the welcomed convenience of using ANY size of rolling paper. In fact, I can see little reason to own a smaller roller that is dependent on specific paper sizes. That is me, however and many folks I talk to like the convenience of smaller rollers as they fit better into pockets and purses. The larger ones are perhaps more suited to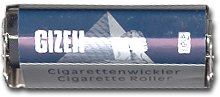 men's larger hands and are certainly too large for rolling more precious and expensive substances than tobacco.

Recently we have been doing a lot of product demonstrations and have found the Gizeh metal roller to be just about the most popular of the smaller rollers. I think it is mainly due to the look (stainless and black) which is popular with the younger (over 18 of course) folk. It has a textured blanket so it grabs the paper very well and has Gizeh's unique design. Specifically it has a top that opens to allow the tobacco to be placed and then instead of moving the secondary roller bar into position by hand, the top serves as a closing mechanism as well

as a great guide for paper placement. It really works quite well and the design shows some real ingenuity. Gizeh practically invented the hand injector and has been an innovator in many areas of RYO/MYO for decades. It will only use a 70mm or shorter paper but that does not seem to be an issue for many of those who have tried it. (Rolling Papers are typically 70, 78, and 100 mm in length). This little unit is well constructed which is important as we do hear from a number of readers who are dissatisfied with their favorite roller dying, usually due to blanket failure. Some even go to the trouble of sewing their own new ones

but at a cost of only about $4 for a new roller, I find that a bit impractical. Still I suppose if you love your little roller, it may be hard to get used to another. These little gems are especially useful when camping or backpacking/hiking where carrying a very vulnerable box of tubes is out of the question, not to mention a big Supermatic injector whose weight could easily be substituted for water and food.
we get a lot of mail about handrolling technique and we feel it is pretty obvious how to accomplish this feat with simply tobacco, paper and two hands. But we have received SO MUCH mail as to the techniques, tricks and tips for true hand-rolling, that we can no longer ignore this facet of RYO. As a preview, however, suffice it to say that hand rolling is mostly a matter of practice - not secrets. - RYO
Our thanks to Paul at TobaccoLovers.com ( http://www.tobaccolovers.com ) for the following graphics and text
Step one
Your thumbs and index finger on both hands, with the glue facing up and at the top.

The rolling paper should have a crease about half way down, so you make another crease splitting the difference in the bottom half. Resulting in a little Vshape.

Step two
Pinch a heaping teaspoon out of the pouch with your fingers and plop it in the middle of the crease

Step three
Begin to level the tobacco off and start to roll it up

Step four
Using your thumbs and index fingers, work the tobacco until it takes cylindrical form (which isn't more than a couple of rolls, back and forth) then roll it up lick and seal. If you roll it too much it gets to tightly packed and will not smoke well. Next, pinch the shaggy scraps hanging out the sides and toss them back in your pouch to be recycled. then pick an end that looks the best and using your thumb nail or finger nail bend in the very tip of the paper inside the cigarette cylinder. This makes a rim and provides you with a more stable cigarette and prevents little scraps from getting attached to your lips.
YUPP!